Christopher West has a new book out!
Read an excerpt here, then head on over to Catholic Lane and read a review from Brian Killian: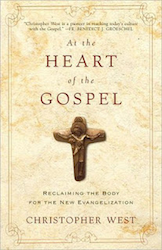 At the Heart of the Gospel, the new book by Christopher West, is the fruit of West's sabbatical from speaking after controversy broke following a television interview. West's new book is primarily two things. First, it's a summary of the main points of West's lectures and writings over the years. West takes a deep breath, slows down, and lays out his argument step by step. West also marshals plenty of quotations from old and new authorities to back him up. There are plenty of quotes from the Catechism, Pope Benedict XVI, Cardinal Scola, the saints, and of course Pope John Paul II and his Theology of the Body.

The second aspect of the book is West's response to his critics. In the appendices West addresses two big points of contention. The first is the controversy that has swirled around West's treatment of the delicate question of sodomy in the context of marital foreplay. The second appendix deals with West's claims about spousal analogies in the Church's liturgies — especially the ceremony of blessing the baptismal font. West doesn't back off of his positions here, but he adds additional explanations and clarification. West also admits that he has made mistakes in his presentations in the past. But he mostly sticks to his guns. And at least on some issues, he certainly should.
Do read the rest! Also, National Review Online has an interview with West on his new book: Sex and the Eternal City.
Another good review: from Brandon Vogt
Previous posts:
The Pivotal Question – on the Christopher West "controversy"
West is Back!