It's March. It's Madness. And my Gators have just danced their way into the elite eight for the fourth year in a row!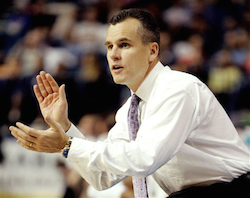 I've always admired and respected Florida's head coach, Billy Donovan for the way he transformed the school's basketball program into one of the country's most dominating powerhouses. But I recently came across a story that profoundly deepened my respect for him off the court.
It actually involves Donovan and two other college basketball coaches — John Pelphrey, former head coach of Arkansas, and Alabama's Anthony Grant — both of whom were assistant coaches under Donavan during Florida's transformative years in the late 90s-early/mid 2000s (Pelphrey is currently back on Donovan's coaching staff).
It's not just a story about three basketball coaches. It's a story of three men — three FATHERS — bonding over the loss of their unborn children and offering each other support over the years as those losses continue to be felt.
Jason King covered this story beautifully at The Post Game a few years ago. I'll just offer some snippets here — from each father's story — and encourage you to go read his whole, moving piece yourself.
"I lost the baby," she finally whispered.

To this day, Donovan doesn't know what was worse: The despair in Christine's voice, or the pain — both mental and physical — he watched her endure when she was induced into labor that afternoon. Standing next to her hospital bed, Billy held Christine's hand as she delivered their stillborn daughter.

"Hours earlier we were trick-or-treating with our kids," Donovan says. "All of a sudden, our lives had completely changed."
…
"I'm sitting there," Donovan says, "and I look over at this church, and there's a sign on the marquee that says, 'God is Good All of the Time.' I kind of shook my head and thought, 'What's good about this?'

"But then I sat there a little longer, and I said to myself, 'I've got an incredible wife, and right now I'm going home to three healthy kids.' A lot of times, when bad things happen in your life, you fail to remember all the good things that are in your life, too.

"At that moment, a calm came over me, a peace that made me realize that, although this was a terrible loss, I was still very, very blessed."
…
"When you're young, you think it's easy to have a baby," says Grant, who was 29 at the time. "Your wife gets pregnant and you assume there aren't going to be any issues. Then something happens like what happens to us, and your whole world changes."

The rupture in her placenta caused Christina Grant to bleed internally. Within minutes of losing Brandon, Grant feared he would lose his wife during labor. Christina made it through the procedure, but remained in the hospital for nearly a week.

"God doesn't make mistakes," Grant says. "All things work for the good. All things happen for a reason. Maybe what I went through enabled me to help Billy."
…
"She looked awful," (Pelphrey) says. "She looked dead. I literally thought I was going to lose both of them at the same time. Luckily, within a matter of minutes, they got her stabilized."

Because it occurred in the middle of the night, Pelphrey didn't call Donovan to tell him what had happened. But when he left the hospital around 6 a.m., he drove straight to his home. A day earlier he figured this would've been a celebratory moment. Instead, here he was, beginning the grieving process with one of his closest friends.
…
A few times each year, Billy Donovan and his family drive to the cemetery at Forest Meadows Funeral Home to visit Jacqueline. Christine almost always brings a rag and a bottle of Armor All.

Instead of cleaning just one headstone, she scrubs three.

Under the shade of a large pine tree, in graves about 50 yards away from the noise and traffic on NW 23rd Avenue, rest the children of three Division I head basketball coaches, three SEC competitors, three best friends forever bound by the most tragic of circumstances.
Do yourself a favor and read the whole thing. It will not disappoint. It is heartbreaking and incredibly beautiful at the same time.