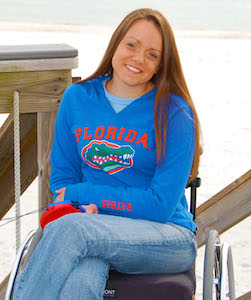 My name is Chelsea Zimmerman; I am the editor-in-chief of CatholicLane.com. I am also a managing editor for Ignitum Today and Catholic Stand. I often write about life issues and Catholic spirituality.
Born and raised Catholic, I am constantly striving to deepen my faith and strengthen my relationship with Christ and the Church. I have a strong devotion to the Immaculate Heart of Mary and the rosary, enjoy spiritual reading, spending time in front of the Blessed Sacrament, frequent confession and going to daily Mass.
In 1999, when I was a junior in high school, I received a spinal cord injury in a car accident that left me paralyzed from the chest down. I have a beautiful, blessed life, but not a day goes by that I don't face some new challenge or limitation. The idea for the name of this blog actually came from an email that I sent out to friends and family on the sixth anniversary of my injury. I looked back and reflected on things that I had come to realize over the previous six years and came up with the following:
Reflections of a Paralytic

Death is imminent

My body does not belong to me

Animals can sometimes be better companions that humans

The love and support of family is often underestimated

I love my Daddy

My mom and my sisters are the most beautiful and insane women I know

Life is beautiful

Love is the most wonderful/awful feeling in the entire world

True faith demands conversion – God wants all of me

All that matters in my life is to live the Gospel and live it well

Mary saved my life

I have an abundance of friends already in heaven

Probably the most beautiful and important of all the things that I have learned is that suffering is the key to salvation. To quote a more reliable source, St. Therese of Lisuix says, "sanctity consists in suffering." Early on after the accident, I remember hearing somewhere that those who suffer are the best friends of Christ, those most closely united to Him. It was then that I realized that this thing that had happened to me was not a bad thing at all. God was actually giving me a unique opportunity to unite myself more perfectly with Jesus on the Cross. It is not only from my wheelchair that I suffer, but in the every day trials of life there are opportunities great and small to suffer for the Lord – to recognize those moments is indeed a great blessing.
Despite being in a wheelchair I still live a relatively "normal" life. I still have the love of my family and the ability to love in return. In short, I have a great life because I'm a human being, dammit, and I know my life has value!
Apart from writing and editing, I also do a number of volunteer activities in my parish and my community. I am a self avowed pro-life activist, doing what I can to help defend the dignity of human life in my community and the world. I want to help others, especially the youth to realize their Christian vocation to love as God loves and thus build up a culture of life in the world!
Recently I started a pro-life video series with my good friend and fellow blogger Rebecca Taylor. Please take a moment to check out BioTalk for all things bioethics, especially those issues related to human biotechnology — cloning, embryonic stem cell research, genetic engineering, transhumanism, etc…
If you want to know even more about me, you can watch my episode of EWTN's Life on the Rock:

Or listen to an interview I did with Jerry Weber on his online radio show, The Catholic Revolver:

Essential Links:
Follow me on Pintrest
Follow me on Twitter
Get this Blog on Kindle
Like this blog on Facebook
Shop at my store!
Watch my videos on YouTube
"Therefore, I am content with weaknesses, insults, hardships, persecutions, and constraints, for the sake of Christ; for when I am weak, then I am strong." 2 Corinthians 12:10
"To offer myself as a victim of Divine love is not to offer myself to sweetness, to consolation, but to every anquish, every bitterness; for love lives only by sacrifice, and the more the soul wills to be surrendered to love, the more must she be surrendered to suffering." ~St. Therese of Lisuix
Would that everyone might know I should already be damned were it not for Mary!
~St. Louis Marie DeMontfort