What is "normal" after all?? H/T: Cause of our Joy Check out this new movie, Mr. Blue Sky. From it's website:
Mr. Blue Sky is a ground-breaking film that explores the romantic relationship of a woman born with Down syndrome and a "normal" male, as perceived by today's society. Mr. Blue Sky attempts to break down society's barriers, much like "Guess Who's Coming To Dinner?" did in the 1960's, as it aims to "change lives" through "changing minds."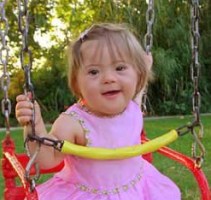 I love that this movie features a main character with Down syndrome, a disease for which a positive prenatal test result ends in abortion over 90% of the time. Our society seriously underestimates the ability of people with disabilities to live "normal" lives – to have jobs, fall in love, or otherwise chase their dreams. Very often people with serious disabilities are looked upon with pity and many presume that our lives must somehow be less fulfilling or valuable because of our physical limitations.
I was 17 when I had my car accident. After the initial shock of what I had lost – all feeling and control over the lower 75% of my body – and the prospect of facing life in a wheelchair, both equally as devastating, I began to see that there were a good many things that I would still be able to do which motivated me to get the heck on with my life – and get out of rehab (I had a prom to go to in a few months after all). Among my biggest motivations, besides the love and support of my family and the example of a very special mentor, were the fact that I would be able to drive again (a car, too, and not a van!) and enjoy relative independence and that I would still be able to one day get pregnant and have children – naturally (God willing – yes that was important to me at 17)! Life was going to be OK, a little different, but OK – possibly even wonderful!
Fast forward, almost eight years now, and it turns out I do have a pretty wonderful life. I did make it to my junior prom (pictured here) and have been driving (with more success this time) for a number of years. No kids yet, I still lack the necessary components – a man and a marriage covenant – otherwise I'd be good to go. I still have the love of my family and the ability to love in return. Apart from working for my parents, I do a number of volunteer duties in my parish and my community. I have a great life because I'm a human being, dammit, and I know my life has value!
The extent to which such people could function in society would obviously depend on the severity of the disease or disability but that doesn't mean their life should be any less meaningful or fulfilling. Sick and disabled people must endure sometimes tragic suffering, but whose to say that our sufferings are greater than those enduring some interior anguish hidden from the eyes of the world? Disability or not, life is what we make it, society be damned. Below are some snapshots of my blessed life so far, post injury.
My new car!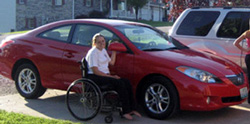 My beautiful sisters (who are actually younger than me, if you can't tell)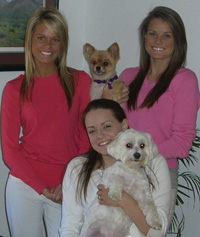 Some great friends of mine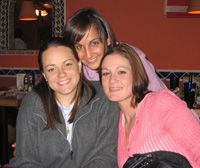 Activism with the kids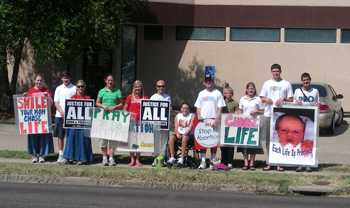 Interning at the State Capitol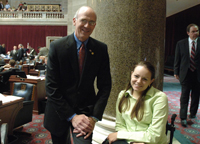 On a horse at my aunt's house – that was scary!


With a dolphin in the Keys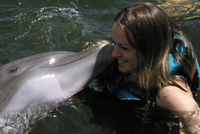 Also, check out my Pictures page to see some of the interesting people I have met over the years.
Related post:
Better Off Dead?
Lives Not Worth Living