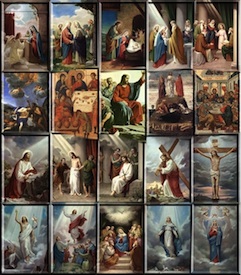 Today is the feast of Our Lady of the Rosary, which comes in the midst of the Month of the Holy Rosary.
At the end of one of my favorite prayers in this handbook is a call on St. Joseph to "keep our minds untainted, our hearts pure and our bodies chaste." Keeping our minds pure is key to keeping our bodies pure – a difficult task in today's culture which bombards us with impure images not just in popular entertainment, but also in much of the advertising we see.
That is one of the great benefits of the Holy Rosary, which is a meditation on some of the purest images in human history with the purest, most chaste human being ever created – and it's not just for Catholics. Pray the rosary for purity!
On my original list of "reflections" I say that "Mary saved my life" and I truly believe that. I have always had a great devotion to Our Lady and for several years now I have dedicated myself to praying the rosary on a daily basis. Next to daily Mass, this is the most important part of my day.
There are many reasons to pray the rosary – an end to abortion, world peace a personal intention – but, most importantly, this regular meditation on His life, with the woman who knows Him best, is one of the best ways to grow closer to our Lord Jesus Christ.
I pray the rosary! Do you?
Our Lady of the Rosary, pray for us!
If you are interested: some posts of mine about Our Lady and Marian devotion over at Path to Holiness:
"We are Honoring Mary, Never Worshiping Her"
Totus Tuus
The Effects of True Devotion