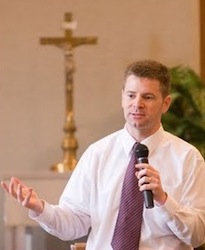 Last weekend Christopher West finally offered his reflections on the criticism that started after his appearance on Nightline this May.** One of the main things West was criticized for was his supposed dismissal of concupiscence and the human propensity toward sin. To which he responds, in part:
The pivotal question as I see it is this: What does the grace of redemption offer us in this life with regard to our disordered sexual tendencies? From there, the questions multiply: Is it possible to overcome the pull of lust within us? If not, what are we to do with our disordered desires? If so, to what degree can we be liberated from lust and how can we enter into this grace? Furthermore, what does it actually look like to live a life of ever deepening sexual redemption?

It is abundantly clear from both Catholic teaching and human experience that, so long as we are on earth, we will always have to battle with concupiscence – that disordering of our passions caused by original sin (see Catechism of the Catholic Church 405, 978, 1264, 1426). In some of my earliest lectures and tapes, I confess that I did not emphasize this important point clearly enough. The battle with concupiscence is fierce. Even the holiest saints can still recognize the pull of concupiscence within them. Yet, as John Paul II insisted, we "cannot stop at casting the 'heart' into a state of continual and irreversible suspicion due to the manifestations of the concupiscence of the flesh… Redemption is a truth, a reality, in the name of which man must feel himself called, and 'called with effectiveness'" (TOB 46:4).

Many people seem to doubt this "effectiveness" and thus conclude that the freedom I hold out is beyond the realm of man's possibilities. From one perspective, these critics are correct. "But what are the 'concrete possibilities of man'?" John Paul II asks. "And of which man are we speaking? Of man dominated by lust or of man redeemed by Christ?" (Veritatis Splendor 103). For those dominated by lust, what I hold out is impossible. But those who enter the "effectiveness" of redemption discover "another vision of man's possibilities" (TOB 46:6).
Also worth checking out in this regard is a talk West did this summer for the Personalist Project on "Dietrich von Hildebrand on Sexuality" (which you can download here). The crux of West's talk here is that for both von Hildebrand and JP II purity is possible – it's difficult, but within our reach. Though our nature is wounded and subject to temptation, Christ came into the world to free us from the slavery of sin (Romans 6:1-14) and call us to perfection (Mt. 5:48).
This talk is especially significant since Dr. Alice Von Hildebrand, Dietrich's widow, was one of the first to come out and publicly criticize West's TOB interpretation and presentation. Before John Paul II became pope and delivered the 129 Wednesday audiences that make-up the "Theology of the Body", German Catholic philosopher and theologian Dietrich von Hildebrand wrote extensively on the subjects of marriage and sexual purity. In fact, it is highly likely that it was von Hildebrand's writings that influenced JP II as a young priest and inspired him to develop these thoughts even further. After his presentation, Prof. Michael Healy, whose "approach to sexuality has been fathered by Dietrich von Hildebrand and deeply enriched by Wojtyla" offered his own thoughts in: Christopher West: A Von Hildebrandian's Perspective.
————————
**For those of you who don't know what I'm talking about: This May ABC's Nightline did a segment on Christopher West and JP II's Theology of the Body. In typical mainstream media fashion, however, the six minute report did not exactly portray the Church teaching or West's own views properly, which immediately prompted a response from West in order to clarify a few things.
Nevertheless, the whole thing sparked a few very public (and sometimes harsh) criticisms about West's TOB interpretation and delivery from some Catholic theologians, including Alice von Hildebrand and David L. Schindler of the Pontifical Institute for Studies on Marriage and Family and Fr. Angelo Geiger. Both Dr. Janet Smith and biblical scholar Michael Waldstein have spoken up in West's defense and West himself has responded to his critics in this interview with Our Sunday Visitor. Also defending West most recently are Cardinal Justin Rigali and Bishop Kevin Rhoades who issued a joint letter of support. Jimmy Akin gave a very thorough and constructively critical, as well as defensive, look at West's TOB etiquette.
All of that, of course, doesn't even compare to the heated debate among commenters in the blogosphere. Things apparently got so bad at Mark Shea's blog that he had to write a post telling his readers to cease what he called the trial and summary condemnation of Christopher West.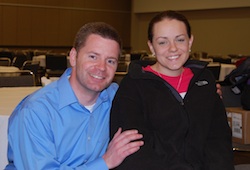 As for myself, all I can say is that, though I attended some Catholic school and was taught "Catholic sex ed", I grew up never knowing what exactly the Church taught about human sexuality and why. It was through Christopher West and the abundant TOB resources he has helped make available to the general public that I even found out about the TOB in the first place and was able to gain at least a most basic understanding of the material. For that, I am eternally grateful. My goal next year is to study the teaching even further with a week-long Head to Heart Immersion Course offered at the Theology of the Body Institute.