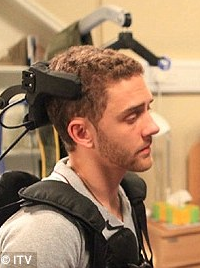 Peter Saunders wrote recently at the MercatorNet euthanasia blog about how television dramas make rare events appear common and so distort public opinion on key issues. He talked specifically about the UK soap opera Emmerdale which is involved in an assisted suicide plot line involving a young man who is paralyzed in a car accident and asks his mom to help him end his life by administering a lethal dose of tablets in his drink. We saw a similar story told here in the US a few years ago in the movie Million Dollar Baby, about a female boxer about a female boxer who becomes paralyzed and seeks suicide help from her trainer. I know, depressing, right? Do these stories really represent of the reality of the majority of us who get this disability? Saunders found some interesting stats:
Spinal cord injury is actually not uncommon – about 11,000 new cases occur in the US every year and about 250,000 people are estimated to be living with the condition. On a population basis we would therefore expect about 2,000 new cases a year in the UK and 50,000 living with the condition at any one time. About half of these would involve the cervical spine, with the strong risk of tetraplegia (or quadraplegia).

The Guardian reported in 2009 that amongst over one hundred people who had killed themselves at Dignitas over ten years only two had tetraplegia. A 1985 British Medical Journal study of 21 people who were paralysed from the neck down and needed ventilators to help them breathe, found that only one person wished that she had been allowed to die. Two were undecided, but the remaining 18 were pleased to be alive. In other words the number of people with spinal cord injury wanting to kill themselves is very low indeed as a percentage of all those with the condition.
The Daniel Jameses and Dan Crewes of the world represent a very tiny percentage of sci patients who can't accept or live with their injuries. But that's who these filmmakers choose to focus on. Why? Not exactly uplifting entertainment, if you ask me (not that that's always Hollywood's goal…Monster's Ball, anyone??). Part of the reason is, I think, because that is what fits with the "able-bodied" idea of life with such a disability: dark, limiting, lonely – depressing – and not worth living at all. I don't want to believe that, but, as I've mentioned here before, one of the most common responses I get from people when I answer their questions about the permanence of my injury is a very shocked, ""wow…well you seem pretty positive despite that."
Yes, a spinal cord injury is devastating to come to terms with and life in a wheelchair sometimes very difficult, but it's not the end of the world. The reality is that the majority of us with spinal cord injuries (and many other disabilities, for that matter) choose to live with our disability and find that there's still quite a lot to enjoy about our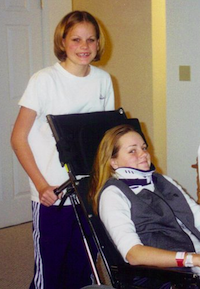 lives. We live perfectly happy, healthy, active lives, even those with high level injuries. Sure, we have to do things a little differently (sometimes very inconveniently so) and some of us need more assistance than others for even the most simple, ordinary tasks, but the value and meaning of our lives are in no way diminished by some physical limitations.
Life with a disability is difficult for everyone to adjust to, friends and family members included. But, it is important that people with disabilities, especially right after a life altering injury, are given encouragement from their loved ones, even though the adjustment may be hard for them, as well. They need to be surrounded by positive people who don't just focus on what the injury takes away, but affirm their life and show them what is still possible, what they still have to live for.