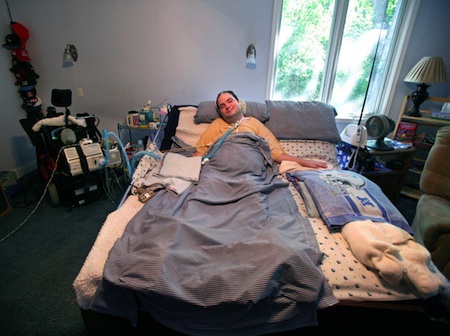 27 year old Dan Crews was paralyzed in a car accident when he was 3 years old. He is paralyzed from the neck down and though he can speak and eat, his diaphragm muscles cannot move air through his lungs so he must be hooked to a ventilator in order to breathe. He's lived this way for 24 years. He graduated from high school and even went to college, earning his Associates Degree. But about a year and a half ago he decided he's had enough. He wants to kill himself, but can't, so he's been battling with Froedtert Hospital in Wauwatosa to have his ventilator removed. Why does he want to die? According to his mother, "he's just not happy anymore." In his words:
"I have no friends. I have no education. No education prospects. No job prospects. I have no love prospects…All I want is to no longer live like this."
Basically this man is depressed and needs some serious psychological help. At least that's what the heath care professionals who were in charge of Crews' psychiatric evaluation determined. But Crews insists that it's the hopelessness of his physical condition is the real reason he wants to die, not some psychological illness. He even finally agreed to take anti-depressants a few months ago, but insists they have not changed his outlook or wishes.
Personally, his problem seems more social than anything else and I can't help thinking that his outlook might improve if he just had a close friend to talk to who would actually help him see how valuable his life really is. Though well intentioned, I'm sure, I don't think his mother, who appears to be one of the only two people he sees on a regular basis outside of his daily caregivers, is much help in this regard when she says that, though she does not really want him to die, she will "back him to the hilt" whether he decides to die or "stay." It's one thing to support your son or daughter's desire to, say join the military or become a priest or a nun or something. But we're talking about suicide here!! This young man is clearly in need of some positive reinforcement about the value of his life and to say that you will support whatever decision he makes – even if that decision is to die – is tantamount to saying that his life has no real significance and it really doesn't matter whether he lives or dies. Now, I don't believe that is his mother's intention, but that's what comes across to me in her comments and there's a good chance that's what Crews hears as well.
My favorite moment in The Diving Bell and the Butterfly, about Jean-Dominique Bauby who was paralyzed from head to toe with locked-in syndrome, was when Bauby expressed his desire for death to his speech therapist and she rebuked him saying:
There are people who love you, to whom you matter. I hardly know you, but you matter to me already. You're alive. Don't say you want to die. It's disrespectful. Obscene.
The life of the sufferer must be affirmed! They need love, friendship and an unyielding reassurance that their life still has meaning, especially when they start talking about suicide.
Emily Bissonnette has some good thoughts on this awful situation as well. See Confronting a will to die with a right to be loved in which she encourages us to send Crews "an encouraging note, a Christmas card, a word of inspiration, a promise of prayer." An excellent idea!
On a more encouraging note: the Journal Sentinel has a poll on whether patients with high-level disabilities should be given the right to terminate their lives. The results as of today @ 4:55pm: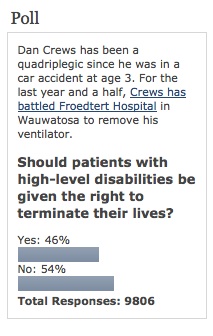 Recommended:
Locked-In Quadriplegic: All Life is Worth Living
Assisted Suicide: the Musical
The Diving Bell and the Butterfly
Pixar Wisdom: The World Needs More "Jackalopes"!