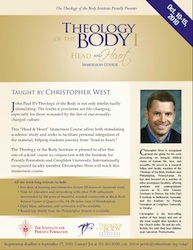 After the recent criticisms about his Theology of the Body interpretation and delivery from some prominent Catholic theologians, Christopher West took a 6 month sabbatical this year to reflect on his teaching methods. It is a shame that this decision caused West, who is one of the most popular TOB evangelists in the world, to miss the very first National TOB Congress, but I have to say, I am very impressed and encouraged by the graceful, humble way he has responded to his critics. I know that there is nothing dearer to West's heart than trying to help others achieve a proper, faithful understanding of the teaching that has transformed his own personal life and, whether it was justified or not, I can't imagine how hard it must have been to hear the work he has dedicated his life to dissected, criticized and discussed in such a public manner. And the debate is still raging!
So I was so pleased to get a notice from the TOB Institute that Christopher will be teaching the final TOB Immersion Course this year! I am in the process of soon lobbying my diocese to help with the cost of attending the TOB Institute at some point in the future. I would love to be able to make it to this course!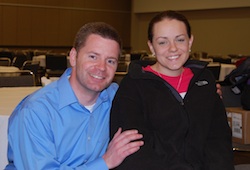 Personally, I've never had any beef with West's presentation of the TOB. I have read nearly every major criticism of his work and, after 5+ years of reading his books/articles and listening to his talks (three times in person), I'm always left thinking – are we listening to the same man?! It was through Christopher West and the abundant TOB resources he has helped make available to the general public that I even found out about the TOB in the first place and was able to gain at least a most basic understanding of the material and a desire to explore it even further. For that, I am eternally grateful. I pray that his time off has served him well and I look forward to seeing him back in action.
That being said, I am also aware that he is not the be all and end all for trying to understand the first major teaching project of our late Holy Father's pontificate. As the recent TOB Congress showed, there are many awesome TOB speakers, teachers and enthusiasts, each one with his or her own unique method of communicating. There really is "something for everyone" with regards to how the TOB is presented and if you are interested in learning more about the TOB, but don't feel like you can yet handle the pope in his own words, I encourage you to look around to find a teacher or an author who is most helpful for you. Besides Ascension Press (and TheologyoftheBody.com), which carries most of Christopher West's material, Our Father's Will Communications has an extensive TOB library with speakers and authors like Katherine Zeno, Dr. Phil Mango, Fr. Thomas Loya and others. Catholic FamilyLand has a good selection of TOB material as well, including TOB commentary from Cardinal Francis Arinze. And don't forget Jason and Chrystalina Evert and the TOB for Teens and Catholic Exchange has a good TOB "Channel" featuring a variety of different TOB columnists.