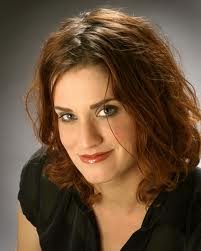 Gianna Jessen rocks my world! On Twitter the other night she said:
"i write about the realities of limping through this world, and the pain of it. but what's funny is, i feel sexy as hell. so i'm still on the painful road, but i don't believe i'm ugly anymore. and i believe this road of much sorrow will grant me a tender heart. that is what i want. a funny, tender, wide, heart.
…
one reason i vocalize these things is, so often handicapped people are viewed as having little to no sexuality about them. i refuse to let myself be thrown into the "special" category. but many handicapped people are put there, and it's no sex for them. just a life of inspiration."
I understand exactly what Jessen means here.
There is an "otherness" to people with disabilities in the eyes of the "able-bodied." In my experience, we are either
a.) looked down on, pitied and even encouraged to end our lives when we feel miserable about our condition or
b.) held up as inspirational icons for showing the world that we can be happy despite the incredible suffering we must endure.
Rarely are we seen as just regular people who have or are capable of the same emotional/carnal needs and wants as any other "able-bodied" human being.
Like Gianna, I talk a lot about life with a disability, often in terms of accepting suffering and physical weakness. But, such a life is not all sorrow and suffering and coming to terms with all that we cannot do.
Most of us live very "normal", happy, active lives – lives that include the joys of love, marriage, sex and babies…or they can when someone is willing to see the real person and not just the disability.
See: Love, Sex and Spinal Cord Injury
Surprise! People With Disabilities Can Have Babies and Be Good Parents