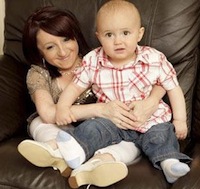 I came across a couple of pretty awesome stories recently. The Telegraph this week has a rather unusual, but very encouraging story about the "Britain's smallest mother" (pictured here). She refused to have an abortion despite significant health risks and gave birth to a beautiful baby boy who, after only a year, is already bigger than she is! "But," she tells the UK Telegraph, "he'll never be too big for a telling off from his mum." This story reminded me of a good piece I read from CNN last week on parents with disabilities (complete with video of a mother who changes diapers with her FEET!!).
I can still has babiez?!
YES (if God wills it)! One of the things I was most excited to learn soon after my injury is that the joys of marriage and parenthood are still possible. Paraplegics and quadriplegics alike can still fall in love, get married, get pregnant and give birth – naturally (watch: Paralyzed & Pregnant)! And, as the stories above indicate, we can love and raise and enjoy our children as well or as much as any "able-bodied" parent can.
Our comfort seeking, eugenic abortion/ESCR/assisted suicide friendly world tends to get so caught up in the things that a disability takes away that we almost completely lose sight of what is still possible. Sure, life with a disability is sometimes challenging and can have its limitations, but that doesn't mean it's less enjoyable. And, to be honest with you, after 10+ years in a wheelchair I've come to realize that quite often I am really only "limited" by my own lack of imagination, determination and ingenuity.
Bonus videos: Wheelchair wedding dances! Because first comes love, then comes marriage and THEN comes the baby in the baby carriage:



I don't do much…err…any dancing in my wheelchair (it's just not my thing), but how cool is it that there are professional wheelchair dancing competitions?? Check out the American DanceWheels Foundation and Wheelchair Dancesport USA And if you're disabled and planning a wedding soon here are some helpful tips from those who have been there.
Previous, possibly related, posts:
The Beauty of Human Weakness
Ditto:
Life…"in a Wheelchair"
I Enjoyed Every Minute of It!
People With Disabilities Can Live "Normal" Lives
Pro ESC Research Movie to Premier at Cannes