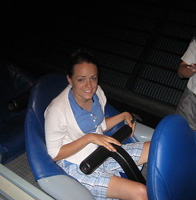 OK, so obviously it really takes me a while to get back into the swing of things after going on vacation. I did return safely Sunday afternoon from a very fun, but exhausting trip to Disney World. The Magic Kingdom was just as wonderful as I remembered. I managed to make it onto just about every ride – even Space Mountain (pictured here). And that one was way more intense than I remember. I know it's not quite as fast and loopy as some of the bigger roller coasters at parks like Six Flags, but there's nothing quite like being surrounded by darkness and not being able to anticipate which way you're going to move next. It also didn't help that I have absolutely no torso control so I was holding on for dear life to the seat in front of me – but I loved it! I have not been to any theme park since my accident so the roller coaster thing was a first for me. In case you're wondering how I got into all these rides, here is a pic of my aunt and my cousin transferring me into the Splash Mountain log boat – it pretty much worked this way for every ride: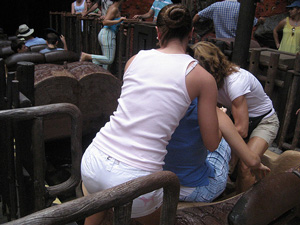 We did Animal Kingdom the next day, but were so exhausted after MK the day before we decided against park hopping to Epcot as well.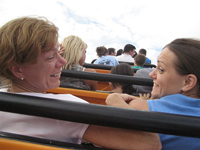 While I was in waiting in line for Thunder Mountain (the ride I'm on here with my aunt) I was chatting with one of the ride's "cast members" when the conversation inevitably turned to the wheelchair. I got the usual questions, what happened…how long have you been it it…will you ever walk again, etc… My answer of "no" to the last question that day prompted another typical response: after a slight look of pity comes the shocked "wow…well you seem pretty positive despite that." Though I get that response often and I'm used to it, I couldn't help laughing to myself a little bit this time and thinking, "of course I'm positive! Look at me; I may be in a wheelchair, but I'm a Disney World for crying out loud! Do you think I'm going to let a little thing like paralysis get in the way of my happiness and my ability to have fun? I'm about to go on a roller coaster right now and continue spending the day with my family visiting all of the rides and attractions that I grew up on (plus or minus a few) and I'll enjoy every minute of it just as much, if not more than I did then when I could walk!" Sure, as in my daily life, I had to do things a little differently and there were a few things I could not participate in. But that's nothing that should ever get in the way of my happiness or lower my sense of self worth.
People With Disabilities Can Live "Normal" Lives:
Shooting bad guys on Buzz Lightyear's Space Ranger Spin (a first for me)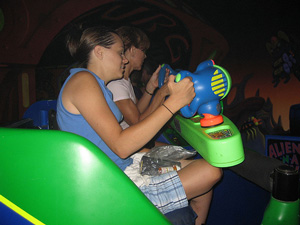 Car racing at the Tomorrowland Speedway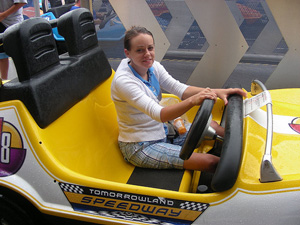 3-D Fun (L to R: Mickey's Philharmagic at MK, It's Tough to Be a Bug at AK)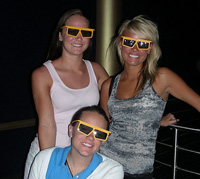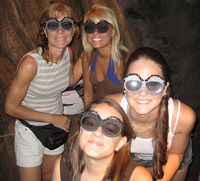 Obligatory pics in front of the castle with my mom and my sister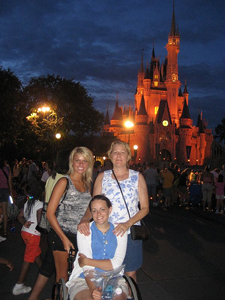 My cousin Abigail fascinated by Small World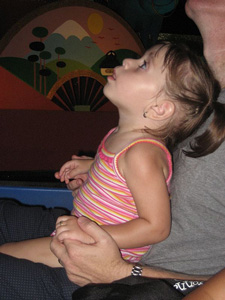 The whole gang at Animal Kingdom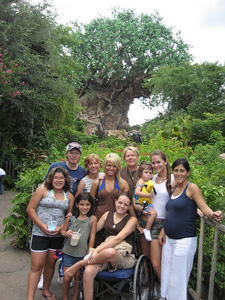 If you're at all interested, you can view more pics at the Hornburg/Jones/Zimmerman Disney 2008 flickr photo album. A book worth checking out: Walt Disney World With Disabilities.
EXCITING NEWS: In 2010 Universal Studios' Islands of Adventure will be opening The Wizarding World of Harry Potter, a theme park within a theme park. Can you guess where I will be heading to next?!?!