Abortion, embryonic stem cell research, euthanasia, divorce, sexual immorality – the culture of death has many faces. One of those faces that doesn't really get discussed a lot in the pro-life movement is drug/alcohol addiction. Not only does addiction slowly kill the addict (physically, spiritually and emotionally), but sexual immorality is often associated with drug and alcohol abuse, which leads to many unplanned pregnancies and abortions. A friend of mine sees this everyday at the pregnancy resource center she works at.
In 1998 I visited a community that helps people break free from the chains of addiction when I was on a pilgrimage in Medjugorge. I had almost completely forgotten about it over the years, but recently, through a new and very dear friend, I was reintroduced to the Comunità Cenacolo (Community of the Cenacle) and I love what I have been discovering about it!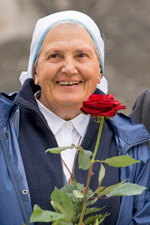 The Community was founded in 1983 by the saintly Mother Elvira Petrozzi (pictured right) who felt a calling from God to serve the "poor of the modern world." The Mother House of the Community is in Saluzzo, Italy and today there are 56 houses spread throughout Italy and the world, including four here in America thanks in no small part to Bishop Robert Baker (who baptized me!). Not your typical drug rehab program, Cenacolo is a 'school of life' based on prayer, sacrifice, authentic friendship, truth, work, and faith. Those who want to transform their lives with the help of the community are encouraged to stay for a minimum of three years in one or two of the houses where they will essentially live a a very disciplined, monastic kind of life – explained here. This article at The Record gives an excellent history of the Community and glimpse into how it works.
This approach is not for everyone, of course. Some people need more involved "professional" medical and psychological help. But numerous testimonies confirm that this can be just what someone trapped in the shadow of death needs to come back to life and find purpose, meaning, hope. Many have entered and been saved after failed attempts with other traditional rehab centers and programs.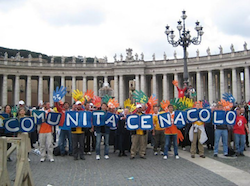 What I find most beautiful is the encouragement of family participation in the life of the community. Not only is it important for the recovering individual to have the support of friends and family, but addiction doesn't just affect the individual. Everyone who loves and cares for him suffers as a result of his self-destructive behavior and having a network of other people going through the same experience helps the family cope as well. Here in America, the community offers semi-annual Parents and Families Retreat Weekends and monthly, regional meetings throughout the country. Family members can do an experience with the community in order to see from inside what their loved one is learning and better walk with them on their journey. And, of course, there is the annual Festival of Life, a gathering of faith for all the youth, families and friends of the Community world-wide. This year's Festival started today in Saluzzo.
If you or someone you love is struggling with addiction or any kind of inner darkness, you might try giving the Community a call to see if they can help. There are houses for both men and women. Also, the community relies solely on generous donations to make this life-changing experience free for all who enter – please help if you can!
It has been a real blessing to discover the great work being done here to not just get people off drugs, but helping them find true peace and freedom that comes only from a life in Christ. All of the community members, their families and those who have dedicated their lives to helping them are in my prayers everyday.
A Prayer to Break Free From Addiction
God of healing, we are once again reminded of the fragility of the human person. Bless those who struggle with addiction and grant wisdom and fortitude to those who love them.

Grant to each of us the humility to allow your strength to make up for our weaknesses, and bless us all with loving companions who can bolster us in times of need. We ask this in your most holy name. Amen.
Links:
Comunità Cenacolo America
Comunità Cenacolo America Blog
Nun's Program Gives Hope (And Faith) to Addicts
Resurrection's Hope in Alabama
Lives Restored
The Road Out of Hell