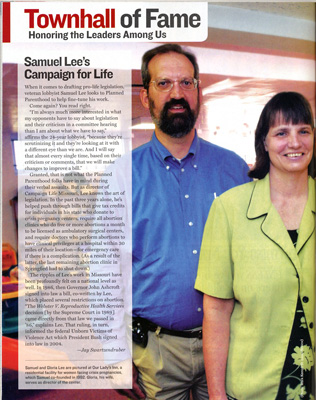 I am back from retreat and ready to face the world yet again (with the help of God's grace).
Before I left I got a copy of the latest Townhall magazine in the mail and was surprised to see a fellow Missouri pro-life activist highlighted inside. Sam Lee has been active in pro-life politics for the last 24 years. He is a lobbyist and the head of Campaign Life Missouri in St. Louis. He is always at the State Capitol either testifying in committee hearing for pro-life legislation or encouraging the legislators themselves to support, or reject, certain bills that relate to life issues.
His dedication to life doesn't end with politics either. In 1992 Lee co-founded Our Lady's Inn, a residential facility for women facing crisis pregnancies. His wife, Gloria, serves as the center's director. He also has an email list (which I am on) to which he dutifully sends out any and all news articles he finds that cover the various life issues.
I couldn't find the article online so I scanned it. If you click on the picture here you can view it full size so that the words are readable.