I just got my order of these great prayer cards from Priests for Life. I think it's a wonderful prayer, especially for those involved in 40 Days for Life. I'm going to be giving them out when our parish Gospel of Life Committee shows the movie Babies tomorrow night! St. Gerard is the patron saint of mothers, specifically pregnant women. The prayer: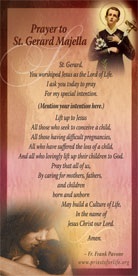 St. Gerard,
You worshiped Jesus as the Lord of Life
I ask you today to pray
For my special intention
(mention your intention here)
Lift up to Jesus
All those who seek to conceive a child,
All those having difficult pregnancies,
All who have suffered the loss of a child,
And all who lovingly lift up their children to God
Pray that all of us,
By caring for mothers, fathers
and children
born and unborn
May build a Culture of life,
In the name of Jesus Christ our Lord,
Amen.