An amazing, heartbreaking story of self sacrifice out of the tragedy in Joplin, MO this week (h/t Catholic Fire):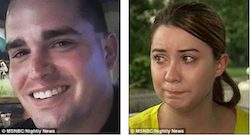 He is the husband that made the ultimate sacrifice to save his wife's life.

As the roaring winds of the 200mph tornado ripped through Joplin, Missouri, Don Lansaw did everything he could to protect his wife.

Bethany Lansaw, 25, revealed today that as the devastating tornado tore their home apart, her husband, 31, threw his body over her in the bath tub to cover her.

'He got on top of me to take the brunt of most of it and he's my hero,' Mrs Lansaw said in a tearful interview.

'I mean the house was ripping apart, it all happened so fast. All the pillows were flying off of us, the only thing I managed to do was keep one in front of my face.'

As the winds died down, Mrs Lansaw looked up to see that her husband was turning blue.

Hoping she could still save him, she flagged down a pick-up truck to get help finding an ambulance, but it was too late.

After six years of marriage, her childhood sweetheart had died.
Here is a tear-jerking clip from an NBC News interview with Bethany:

Visit msnbc.com for breaking news, world news, and news about the economy
See, Christopher Hitchens? Selfless love is possible.
May his soul and the souls of all the faithful departed, through the mercy of God, rest in peace.
Previous:
Pray for Joplin
Pro-Life Help Needed in Joplin!
Holy Father Sends Condolences to Tornado Victims in Joplin