*Update* Death toll now at 116, makes Joplin tornado one of the top ten deadliest in US history at number 9…and the death toll is expected to continue to rise as search and rescue efforts continue.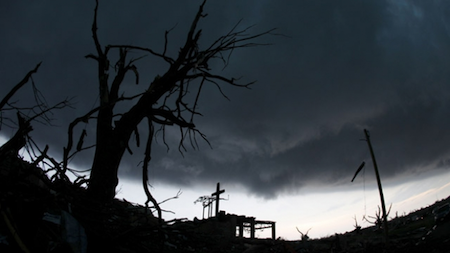 As the death toll (right now at 89) rises and more storms are forecasted, please keep the city of Joplin here in Missouri in your prayers. Both the local high school and the hospital were severely damaged along with most of the rest of the city when it was hit by the deadliest single U.S. tornado since 1953. Along with your prayers, these people are going to need supplies – and I mean everything. Not just clothes and food, but things like extension cords, batteries, gas cans, all infant supplies (especially sensitive formulas), toiletries, feminine hygiene products, pet food, insulin, chainsaws, rakes, shovels, hammers, work gloves, etc…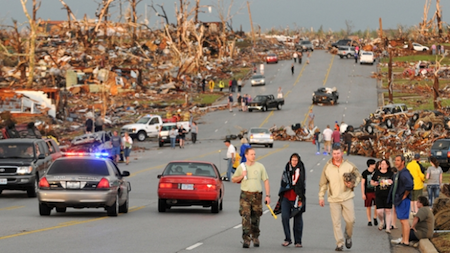 As far as where you can send donations and how to volunteer, I pulled this list from MSNBC:
Donations
-The American Red Cross has set up a page for Missouri tornado and flood relief.
-The Joplin Red Cross could use some donations. You can contact it at (417) 624-4411 or info@redcross-ozarks.org in order to find out what supplies are most necessary.
-The Missouri SEMA has set up a donation page.
-A list of major non-profits that operate regularly in Missouri can be found on the National Donations Management Network website. You can also call (800) 427-4626 for further information.
-The Missouri Interfaith Disaster Response Organization is taking donations for longterm recovery efforts.
-The Community Blood Center of the Ozarks is in need of blood — particularly type O. A list of donation sites can be found here.
Volunteering
–211 Missouri is helping organize volunteers in the affected areas. More information can be found by calling (800) 427-462.
-Nurses or doctors looking to help can call (417) 832-9500 for the Greater Ozarks chapter of the Red Cross.
-Health professionals can register to volunteer through the Show-Me Response website.
Animal rescue
-For those in the Joplin area: Emergency Pet Center of the Four States at 7th & Illinois near the Sonic is OPEN and accepting found/injured animals. Its phones are down at this time.
-The "Animals Lost & Found from the Joplin, Mo tornado" Facebook page is tracking lost and found pets.
Safety Information
-The National Americorp Volunteers are setting up a national hotline for residents to call to check on loved ones. The number is (417) 659-5464 and should be active later today.
-The American Red Cross has set up a site on which you can check in, report on the safety of others, or look for information on loved ones.
– The "Joplin people accounted for after the storm" Facebook page is helping people track loved ones who fell out of touch during the storm.
-The St. John's Health System has been updating its Facebook page regularly with information relevant to the aftermath of the storm.
Other efforts
-The recently organized "Joplin Volunteer & Outreach Station" Facebook page appears to be focused on aiding relief efforts.
-The "Joplin Tornado Citizen Checks (neighbors helping neighbors!)" Facebook page appears to be a gathering place for a lot of Joplin locals who are in need of aid or able to provide aid to others.
-The "Joplin, MO Tornado Recovery" Facebook page is one of the bigger ones dedicated to aid efforts and contains a great deal of up-to-the-second information on where help is necessary.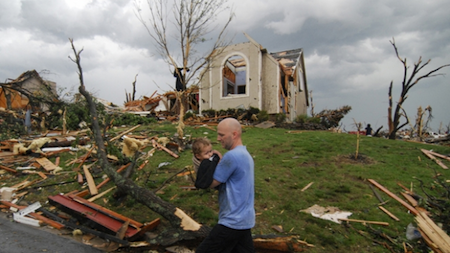 Video:
Here's a video of the actual tornado and the damage immediately after:

This ariel footage really gives you a sense of just how massive the destruction is there:

This video of several people trapped inside a convenience store in Joplin when the tornado it is just heartbreaking and gives you a sense of just how terrifying the entire situation was for everyone involved. These people managed to survive by running into the store's walk-in storage fridge.

*images via FoxNews