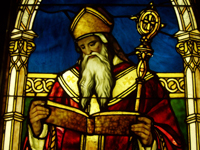 How appropriate that today's feast of St. Augustine came during the same week Speaker of the House Nancy Pelosi used the Church Father's words to justify her position in favor of abortion:
"After she was elected to Congress, and the choice issue became more public as she would have to vote on it, she studied the matter more closely. Her views on when life begins were informed by the views of Saint Augustine, who said: '…the law does not provide that the act [abortion] pertains to homicide, for there cannot yet be said to be a live soul in a body that lacks sensation…' (Saint Augustine, On Exodus 21.22)
Fr. Z explains what St. Augustine really says about abortion and when fetuses are ensouled or vivified. Find out what the other Church Fathers had to say about abortion.
Archbishop Chaput, the first to respond to Pelosi's comments on Meet the Press, talks to Neil Cavuto about Pelosi's abortion conflict (h/t Catholic Fire):
AmP lists all of the American Bishops who have corrected Pelosi's misrepresentation of the Church. It is good to see so many of our Bishops taking after Augustine and all of our Church Fathers in educating the faithful and denouncing heresy. Pray that Pelosi herself will listen to the truth and take it to heart.
If you're really interested in reading more on what's been said on this over the last week see Fr. Z's round-up and AmP's timeline.
My Path to Holiness posts featuring St. Augustine:
All My Hope Lies in Your Great Mercy
Feast of St. Martha