We're only one day into the fall 40 Days for Life campaign and there's already good news. Here in Missouri, the Planned Parenthood in Columbia has lost yet another abortionist. You may recall that I was just there a few weeks ago praying for 18 mothers who were going in for an abortion on my birthday.
This is not the first time they have been without an abortion provider. The PP in Columbia has gone through six different abortionists during the past two and a half years, including times during 40 Days for Life campaigns, and this facility has gone months at a time with absolutely no abortions. The physician they have on staff now has been called to active military service overseas (no word on what she actually does for the military) so abortions will be suspended in October until they can find a replacement. Let's pray they never do!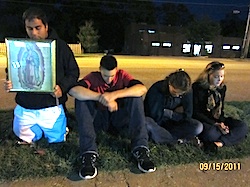 Whether it's women and babies being saved individually through sidewalk counseling, clinic workers having a change of heart, abortionists quitting or even whole facilities being shut down, great things happen at abortion facilities where there is a peaceful, prayerful pro-life presence. It's definitely not for everyone, but it's also not as intimidating as some might think – depending on where you go. In Columbia, for example, we really only have one or two individuals who actually reach out to the women who are there for abortions. The rest of us really just stand there on the sidewalk and pray quietly to ourselves. There's not a lot of interaction between us and the staff members or even other pro-choice protestors who sometimes show up. And the cops who have stopped by to check on things have always been quite amicable with us.
If you've got some time this fall and have never made it out to be a witness in front of an abortion facility, I would encourage you to give it a try. There are nearly 300 locations participating in 40 Days for Life this year. See if there's one near you.