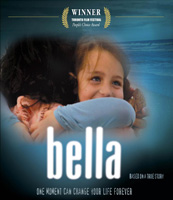 Ok, that was lame, but the movie did do surprisingly well for only being released is 31 theaters – $1.3 million's not to shabby! And now, along with the Toronto Film Festival's People's Choice Award, Bella can add the prize for best Drama at the Heartland Film Festival in Indiana. Critic's haven't been too nice to the film, most likely because of its positive and life affirming message, but film goers know a keeper when they see it.
I must admit that I have not seen the movie yet. The closest theater it opened in to me was 2 hrs. away in St. Louis. I do hope to travel to STL this coming weekend when the St. Louis Vincint de Paul Society hosts a youth event featuring the star of the film, Eduardo Verastegui (not sure if that will happen yet). I have seen an interview with him on EWTN's Life on the Rock and even posted this summer on Path to Holiness about an article on him in American Life League's Celebrate Life magazine. It is inspiring to see a person really living his faith without compromises, especially in such a corrupt place as Hollywood.
Bella will open in another 12 cities on November 9 – Albuquerque, Des Moines, Duango, Colorado, El Paso, Green Bay, Honolulu, Madison, Milwaukee, Minneapolis, Oklahoma City, Pittsburgh and Tucson.
P.S. check out this post by Red Cardigan on Contraception's Big Lies (h/t: Jennifer from Et Tu? – a wonderful site for you to check out, by the way). It goes well with what I have been talking about recently:
Reclaiming the Truth and Meaning of Human Sexuality
Evidence: Contraception is NOT the Answer