During the Gospel reading at Mass this past Sunday (Mk 9:38-43, 45, 47-48) we heard:
And if your foot causes you to sin, cut if off.
It is better for you to enter into life crippled
than with two feet to be thrown into Gehenna.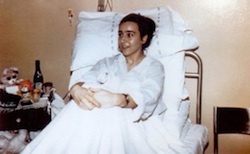 As I listened to this I couldn't help thinking of a quote I came across a few years ago from Blessed Chiara Luce Badano:
"If I had to choose between walking or going to heaven, I would choose going to heaven."
No doubt this statement confuses many, especially the 52% of Americans who say they'd rather be dead than disabled. But after the journey I've been on for the past nearly 13 years, I understand and appreciate how she feels.
I may have lost my legs, but I didn't lose my life. And for that, I am forever grateful. In fact, I think it's fair to say that it took this life altering trauma to wake up the sleeping saint within me.
Not that I think that I'm anywhere near sanctity, mind you. Far from it. But I am now at least more aware that that's what I was created for and actually have a desire to persevere in pursuing that holiness. Something I was totally not on track for prior to my injury.
During a talk I gave to a group of seventh graders a few years ago, I was asked: if I had my whole life to live over again, would I still want to end up in a wheelchair. Let me put it this way: as difficult and inconvenient as it is to live with a spinal cord injury sometimes, if that's what it takes, I'd rather enter into life paralyzed than with two good legs to be thrown into Gehenna.