Every four years the Olympic games captures the attention of the world as it showcases the pinnacle of athletic achievement. Two weeks after the Olympics are the lesser known Paralympics, an event that is great for its showcase of the pinnacle of human achievement. Let's face it, every athlete has to train hard. Add some physical disability to that regimen, however, and you're talking about whole new level of strength and determination.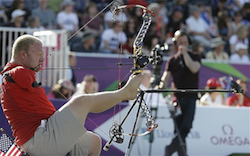 Just ask Matt Stutzman. Archery may not normally be considered the most physically demanding of all sports, but this guy does it without arms — and this year he won the silver medal for team USA. He also holds the world record for the longest accurate archery shot ever.
Or how about American paraplegic swimmer Mallory Weggeman? Being able to excel in swimming is hard enough, just imagine trying to do it while relying solely on the strength of your arms. Even most Paralympic swimmers have some help from their lower body. This year Weggeman took home Gold in the 50m. freestyle, swimming it in 31.13 seconds.
The Paralympics are often lost in the wake of the Olympic spectacle, but they've been slowly gaining popularity. With 4,200 Paralympians from 164 nations and 2.7 million spectators, this year's Paralympic Games, which concluded on Sunday, was the biggest ever.
If that's not enough good news for you, this year Paralympic veteran Oscar Pistorious made history as the first double amputee to run in the Olympics. I was grateful to see NBC actually give Pistorious a lot of coverage for his historic Olympic debut, but it turns out he's not the first or only Olympic athlete with a disability.
The first was German-born U.S. gymnast George Eyser who competed in the 1904 St. Louis games with a wooden left leg. He won gold in three events — including in the vault and the 25-ft. rope climb — as well as two silvers and a bronze. Olivér Halassy, a Hungarian water-polo player, competed in three Olympic Games from 1928 through 1936 with an amputated foot.
The Paralympic Games was created for disabled athletes in 1948, but that hasn't stopped athletes with disabilities from competing in the Olympics.
In the 1984 Games in Los Angeles, Jeff Float, a partially deaf swimmer, competed in the 4×200-m relay with the U.S. team. According to his bio, after helping extend his team's lead in the third leg of the race that they went on to win, the roar of the home crowd was so loud, that he was able to hear it for the first time.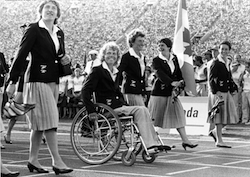 Also in the 1984 games was New Zealand archer Neroli Fairhall, the first paraplegic Olympian. Following in Neroli's footsteps (so to speak) was Italian archer Paola Fantato. A gold medalist in five Paralympic games, Fantato also competed in the 1996 Summer Olympics in Atlanta.
Marla Runyan, who is legally blind, competed in the 1,500 m during the 2000 and 2004 Olympics after dominating the track-and-field events at the 1992 and 1996 Paralympics, winning gold in the 100 m and long jump. And then there was South African long-distance swimmer Natalie du Toit, who lost her leg in a car accident at age 17, placed 16th in the 10-km swim in 2008 in the Beijing Olympics.
This year three athletes with disabilities competed in the Olympic games. Besides Oscar Pistorious there was Im Dong Hyun from South Korea and Natalia Partyka from Poland.
An Olympic gold medalist in Sydney and Beijing, archer Im Dong Hyun is legally blind. This year he took home bronze with his team and set a new world record. Born without a right hand and forearm, Natalia Partyka competed in both the 2008 Olympics and Paralympics, and did so again this year. She has yet to medal in the Olympics, but took home gold and bronze at this year's Paralympics.
No doubt these athletes, few as they may be, along with the rising popularity of the Paralympic Games themselves are why Sir Philip Craven, President of the International Paralympic Committee, suggested in May that the Paralympics and the Olympics could merge into one event at some point in the future. Some Paralympic athletes have voiced concern that the disability sporting events would be overshadowed by such a merger (as if they aren't already?), but it sounds like a great idea to me. Athletes with disabilities are really just athletes, period and they certainly deserve to be able to compete with and be recognized right alongside the rest of the world's best.
The Paralympic games and their growing popularity among spectators are a ray of light in a world in which discrimination against individuals with disabilities remains high. Not only is abortion now standard procedure for unborn children diagnosed with various diseases and disabilities, but we are developing a very pro-suicide culture here in the West for the seriously ill and severely disabled. Here's hoping the popularity of these games continues to rise and these athletes inspire people around the world to realize that life with a disability is not as awful as it seems.