In her totally unbiased live report on the announcement of Paul Ryan as Mitt Romney's running mate last weekend, MSNBC's White House Spokesperson Correspondent Andrea Mitchell said: "I think you're going to see that they (have) decided that this is a base election. This is not a pick for suburban moms. This is not a pick for women. This is a pick for the base."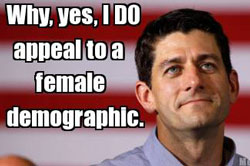 Speak for yourself, Ms. Mitchell. Many ladies LOVE Paul Ryan. None more so than the ones behind the "Hey Girl, It's Paul Ryan" Tumbler meme. Most of the graphics are related to his economic policies, such as, "Hey Girl, Let's Get Fiscal," or "Hey Girl, that actually IS a zero-baseline budgetary graph in my pocket. But, I AM happy to see you." I think this one is my favorite, though: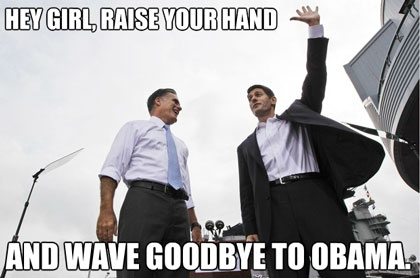 I know it's not easy for you to come to terms with, Andrea, but not all women think that we have a right to kill our offspring. We also don't think that our fertility is a disease that needs to be "treated" with hormonal contraception. Even less-so do we believe that employers, religious or otherwise, should be forced to offer insurance policies that cover this so-called treatment.
It is worth noting that the Ryan "Hey Girl" women are in their 20s. To paraphrase a friend of mine: This "war on women" that you speak of is the shrill cry of an old, dying, barren generation. Most of us younger women are interested in nurturing life, not taking it.