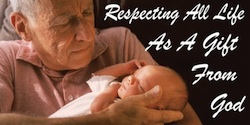 "Never tire of firmly speaking out in defense of life from its conception and do not be deterred from the commitment to defend the dignity of every human person with courageous determination. Christ is with you: be not afraid!" (JPII – Address to visiting bishops, 3 February 2001)
God created man in his image; in the divine image he created him; male and female he created them. (Genesis 1:26)
When we destroy human life, we destroy the image of God here on earth. October is Respect Life Month. Over at Catholic Vote, Kathryn Lopez suggests:
A question every Catholic ought to be asking this month and this day: What am I doing to build a culture of life? It can be dedicated prayer. It can be helping that mom down the street — or a father on the other side of town. It can be sacrifices small and great. It can be political. It can be creative. But are we doing something? Anything?
So? What are you doing to help build a culture of life? I like this suggestion from Mother Teresa:
"If you want to change the world, go home and love your family."
That would certainly help as the family is the first vital cell of society! October is also the Month of the Rosary, one of our most powerful prayer weapons, so, please, definitely, make an end to abortion and a greater respect for human life from conception to natural death part of your rosary intentions this month. And since we're in the midst of the fall 40 Days for Life campaign, you might also consider joining up with a 40 Days for Life group near you!