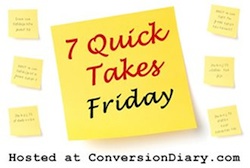 For a few years now, Jen has been hosting "7 Quick Takes Friday" over at her blog Conversion Diary. I never have any interesting personal information to share, BUT, here's some interesting stuff that I haven't gotten around to blogging about lately:
1. Chiara 'Luce' Badano was beatified last month. She is A Wonderful Example for the Sick and Suffering
2. The Vatican responds to British scientist Robert Edwards being awarded the Nobel prize for the development of in vitro fertilization:
"without Edwards there wouldn't be a market for oocytes (immature egg cells), without Edwards there wouldn't be freezers full of embryos waiting to be transferred in utero or, more likely, to be used for research or to die abandoned and forgotten by everyone,"
Previous post: TOB Tuesday: Technology and Human Conception
3. The "Will to Live" – says Fr. Frank Pavone:
This document is meant to protect you. The danger in our day is not that we will have treatments we don't want; the danger, instead, is that we will not have treatments that we do want.
4. No Truce on Abortion — Full Steam Ahead! – another good one from Fr. Pavone: The right to life is fundamental…If the right to life doesn't matter, then neither do jobs or the economy.
5. Big Families = Opportunities to Spread God's Love (and some wit) – over at the Aggie Catholics blog, Marcel takes a humorous look at some of the comments he's heard about large families throughout his life. Previous post here: America's Voluntary "One-Child Policy"
6. The bastardisation of science and the utter disregard for nascent human life continues: California has a pending regulation that would treat embryos as if they were mere diagnostic specimens. The American College of Embryology opposes the regulation.
7. These two recent posts on science and ethics remind me of something Pope Benedict said on his recent visit to the United Kingdom:
The world needs good scientists, but a scientific outlook becomes dangerously narrow if it ignores the religious or ethical dimension of life, just as religion becomes narrow if it rejects the legitimate contribution of science to our understanding of the world.
Bonus: I finally got my "I am the Catholic Vote" sign (see pic)! Now to decide what to write on it…what do you think? Previous post with the latest Catholic Vote ad: Weighing the Issues