HA! At the Planned Parenthood clinic in Columbia, MO, where pro-lifers have been participating in 40 Days for Life, there is a very small group of pro-choicers who stand outside the clinic on Thursday afternoons. This group is made up mostly of employees of this Planned Parenthood (the abortionist herself even came out and joined them once) and a known lobbyist for PP in MO. Sometimes they have trouble avoiding the many pro-life signs we have planted along the sidewalk: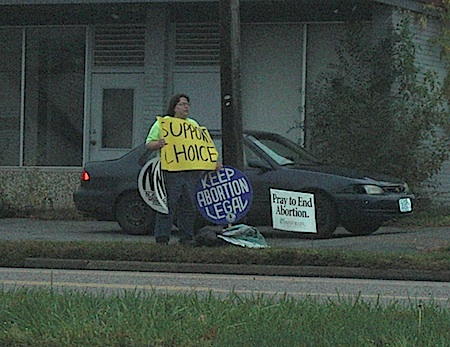 This pic was too priceless to pass up. A friend told me that two other women eventually joined her and they stood in front of our sign. See a similar pic of these women next to one of our signs here.
A few more pics from PP today:
One of our regular pray-ers chats with the cop hired to "guard" the clinic on Thursdays when the abortions are being committed.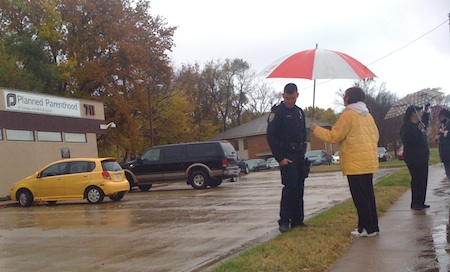 No, he wasn't giving her a hard time. She actually called him over for a little friendly conversation. I'm told these cops have always been very amicable with the 40 Days for Lifers and vice versa. But it sure is a little discomforting to see a man, whose duty it is to defend and protect our citizens, literally escort the weakest and most vulnerable members of our society to their deaths.
A group from the Newman Center at the University of Missouri came to pray: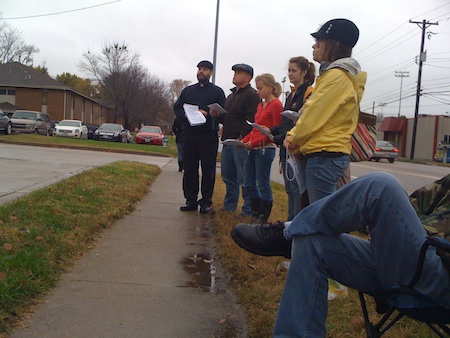 The Columbia Tribune recently ran pretty fair piece on our vigil: Vigil seeks to end abortion
Only three more days left in the fall 40 Days for Life campaign. So far 430 babies have been saved Nationwide this fall (4 in Columbia) bringing the total since 40 Days began in 2004 to 2,000! There's still time to participate! Find a location near you.