The Florida Panhandle suffered the remnants of Hurricane Patricia all day yesterday. It quite literally did not stopped raining/storming for 24+ hours here in Pensacola.
This kind of weather is always good for reflecting on suffering.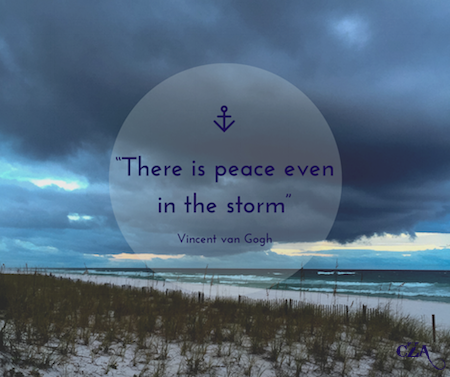 During a search for storm-related quotes to lift my spirits yesterday, I came across the one above attributed to Vincent Van Gogh that reminded me of something from one of my favorite modern spiritual authors:
In all suffering there is a germ of life and of the resurrection, because Jesus is there in person. -Fr. Jacques Philippe, Searching for and Maintaining Peace
In all people who suffer there is Jesus – on the Cross and Risen from the dead.
Christ crucified cries with us and shares in our sufferings — giving us comfort and strength. And Christ risen reminds us that suffering and death no longer have the final say, and there is still some joy to be found amid the struggle.
I love the way the late, great Fr. Richard Neuhaus put it: "as long as we are alive, we have all the life there is." Whether we find ourselves terminally ill, permanently disabled, or facing some other permanent or transitory physical/emotion/spiritual hardship, we are never deprived of the beauty and goodness that life can bring.
It is not by fleeing from suffering that we are healed, but rather by our willingness to accept it, mature through it and finding meaning through union with Christ, who suffered with infinite love. (Spe Salvi, 37)