I just got word from the filmmakers that the documentary "The Stem Cell Divide," which I was a part of, will premier at the St. Louis International Film Festival on Sunday Nov. 16th, 2 p.m., at the Tivoli 1 Theatre. The movie documents the great stem cell debate that has been raging in Missouri over the last few years.
Triumph Documentaries has been making this film since 2005 when we were trying to ban human cloning in the MO State Senate. A year after that attempted ban pro-cloning forces launched a deceptive $30 million dollar campaign to enshrine the right to clone human beings for scientific research in our State Constitution. What was supposed to be a slam dunk passed only by the slimmest of margins thanks to an impressive anti-cloning grassroots campaign. Since then pro-lifers have been trying to get a ban on cloning voted on in the state, but have been stopped twice – once when a joint resolution failed to pass the legislature in 2007 and again in Secretary of State Robin Carnahan wrote a disgraceful and intentionally misleading ballot summary for what was to be a state-wide initiative petition (that lead to a lawsuit that we originally won, but then lost on appeal.) And because our Constitution now forbids lawmakers from intentionally restricting funds from researchers and institutions involved in cloning/ESC research, we've had many disagreements during the last two legislative sessions between lawmakers and pro-life organizations (MRL in particular) about State funding issues.
The documentary, I believe, will primarily focus just generally on the issue of stem cell research and cloning. It is supposed to be an unbiased look at both sides of the debate so I will be interested to see how balanced it actually turned out. The filmmakers main interest is in keeping the conversation about this vitally important topic alive.
I was originally interviewed at the pro-life rally day at the State Capital in 2005. Wanting to follow up since the passage of Amendment 2, the filmmakers came out to my house earlier this year – while we were still in the middle of the lawsuit against the SOS's biased ballot language – to tape a longer interview. Here are some pics from that day:
Watching me "work":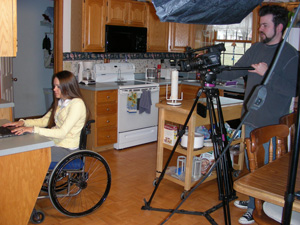 Filming me getting in and out of my car: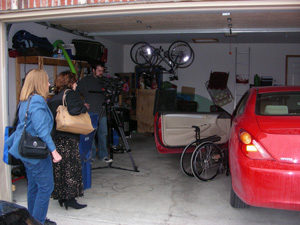 If you're interested: Advance tickets for programs at Tivoli 1 Theatre are for sale at the Tivoli box office beginning Oct. 20. Box-office hours are 5-10 p.m. Monday-Friday and 2-10 p.m. Saturday-Sunday. No phone sales. For tickets online, visit tickets.landmarktheatres.com.
Here is the film festival schedule. More about the festival