The Center for Bioethics and Culture, producers of the award-winning Eggsploitation and Anonymous Father's Day, will be releasing a new documentary later this month. Breeders: A Subclass of Women? explores the important issue of surrogacy, talking with surrogates, physicians, psychologists, and activists across the political and ideological spectrum.
Pay attention, ladies. Porn is not the only industry commodifying women. Biotechnology is a "women's issue" if ever there was one.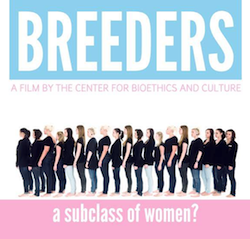 From the video description:
Surrogacy is fast becoming one of the major issues of the 21st century—celebrities and everyday people are increasingly using surrogates to build their families. But the practice is fraught with complex implications for women, children, and families. What is the impact on the women who serve as surrogates and on the children who are born from surrogacy? In what ways might money complicate things? What about altruistic surrogacy done for a family member or close friend? Is surrogacy a beautiful, loving act or does it simply degrade pregnancy to a service and a baby to a product? Can we find a middle ground? Should we even look for one?
Breeders dares to go where few documentaries have dared yet to take us and where the assisted reproduction/family building industry really doesn't want us to go: the dark heart of surrogacy where women with less financial means are treated like vessels and the children created are products made to fit the adult needs. For anyone who doesn't want to believe that "modern family building" involves contracts, injections, donors, lawyers and payments changing hands, a strong dose of reality and compassion could be salvaged by watching this film.
— Claudia Corrigan D'Arcy, writer, speaker, activist on adoptee rights, and organizer of the Adoptee Rights Coalition. She blogs at Musings of the Lame

Great documentaries move the viewer with simple facts, delivered in first-person accounts. Breeders accomplishes this. It offers the facts about the market for eggs and wombs from the lips of the sellers, while it overwhelms you with the human consequences of a trade in human beings.
— Helen M. Alvare, Professor of Law, George Mason University School of Law

Jennifer Lahl's eye-opening interviews with surrogates, doctors, psychologists, and advocates across the political spectrum explain why surrogacy is either illegal or far more limited in other industrialized countries. Two NOW officials weigh in on the commodification of the financially strapped women who become surrogates and the widely ignored increased risk of maternal death in gestational surrogacy. Surrogates describe medical and emotional nightmares for themselves and the children involved; one who was allowed to visit the child to whom she'd given birth when the little girl was five months old describes finding that the until then constantly collicky infant did nothing but sleep peacefully on the surrogate's chest the whole time she was there. Until then, she says, "I at no point in time thought about how it would affect her." Perhaps most sobering, though, are the words of a young woman who was the result of such an arrangement: "Most of the consideration is for the adults" who can afford to effectively buy their children, she says, exploiting both the women hired to bear them and the children whose "foundation of existence is a contract, and money."
— Melinda Henneberger, Washington Post

Breeders is a fascinating film that highlights the many tensions between women's status, the free market demands of the fertility industry, and the fragmentation of women's fertility and reproductive labor. This is a must-see film for all those who care about women and human rights.
— Hedva Eyal, Medical Technologies Policy Researcher and feminist activist, Israel