R.I.P. Crash Monster (1999-2013)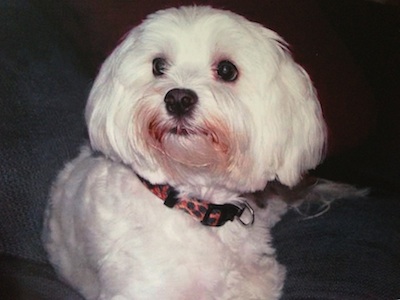 Like most people, I'm sure, I had hoped that my dog would die comfortably and peacefully with me at home. But he had other plans.
As long as he didn't appear to be suffering terribly, I kept putting off bringing him in to have him put down. But, no matter how many times I told him it was okay to go — begged him to, prayed for him to — he refused. He just slept. And slept. And by Monday morning it was clear that he was going to force me to bring him in. He wasn't just sleeping peacefully anymore and I knew that I could not let it go on any longer.
"Dammit, Crash. Don't you know that I am against euthanasia?"
"Yeah, for humans."
Brat.
As terrified as I was, I made myself stay in the room with him when they did it — after they let me have a lot of time to get the courage to finally let him go…for good. And, naturally, it was every bit as heartbreaking as I always feared that it would be.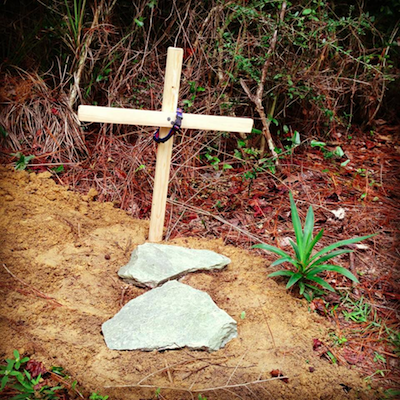 Here lies Crash. He was the best of dogs, he was the worst of dogs. And he died the way he lived: stubborn — right up to the very end.
I've read several stories of doggie loss over the years, many of which wax sentimental on the various lessons of life and love that their faithful canine companions taught them. I'm not sure I have anything like that to offer about my Crashy.
I suppose if he taught me anything, it was patience. Lots of patience. We called him Crash Monster for a reason. He was constantly getting into things he shouldn't get into. Mostly trash or any food that was mildly within his reach. And he never met a pair of dirty underwear he didn't like.
Ahh! But he did manage to bring me considerable happiness and many joyful memories, despite his monstrosity. He was my baby boy, my handsome man, my fuzzy valentine and just a major part of my life for the past nearly 14 years. It's so hard adjusting to the fact that he's really gone.
Our first and last pictures together:
December 1999 — in the hospital shortly after my car accident.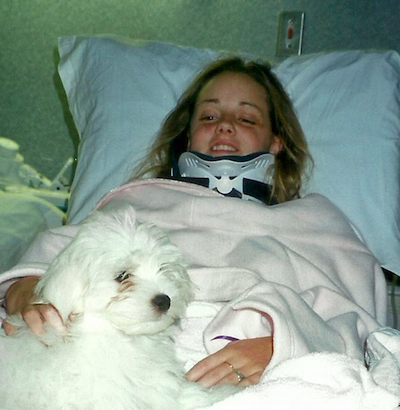 October 2013 — one of his last days.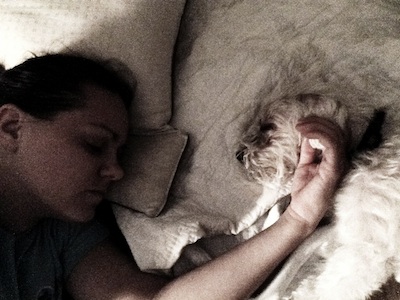 One of his favorite things:

Lazy afternoon dog break. Another one of his favorite things:

Spoiled Rotten from Chelsea Zimmerman on Vimeo.
"The Church teaches that there are no animals in heaven, since the beasts lack immortal souls. Far be it from me to question the doctors of the Church, but I cannot help but wonder if their reasoning is sound. Would God deprive a man of the companionship of his favorite hound, a dog the man raised from a pup, an loved? I sometimes wonder if, in the same way Christ gives part of his divinity to us to elevate us beyond the state of mortal men, we men, when we love the lower animals, grant something of our soul to them, so that God can make a way to keep them with us in the next life. But this is merely speculation: there may be something better—I know not what—than even this." -John C. Wright, On the Garden of Paradise
For in him were created all things in heaven and on earth, the visible and the invisible, whether thrones or dominions or principalities or powers; all things were created through him and for him. He is before all things, and in him all things hold together. -Colossians 1:16-17
More Crash:
Say Hello to My Little Friend
My Valentine
My Fuzzy Valentine
Prayers for Crashkor the Luckdragon