Kindly requesting your prayers, gentle readers. It's looking more and more like my precious Coco kitty is at the end of her life – and I am NOT ready to deal with this (I know, who is, right?). It's hard to tell how close she is. She's still eating and walking around, but she's definitely more subdued than normal, she's getting skinnier and she appears to have developed a nasty looking eye infection that I'm hesitant to bring her into the vet for right now as it might just cause her added stress and trauma. The thing is, she's 19 years old and I'm not sure even the vet would say that it would be beneficial to bring her in to be tested or treated for anything at this point. In fact that's exactly what our old vet told us when Coco's mother was skin and bones at 18. (I should note that I've been trying to keep her eyes cleaned out and I've ordered some over-the-counter eye drops in an attempt to at least do something.) I hate this.
I've talked a good game here in the past, but, when actually confronted with it, the truth is I'm scared to death of death. Really scared. I want so desperately to be able to be with her and comfort her in her final days/hours/moments, but at the same time I'm afraid to go out and even look at her (she's an outside/garage kitty) and I am positively terrified at the thought of having to actually bring her in and have her put down (I don't want to kill my cat!). I hate this.
As heartbroken as I am over my poor, old, dear cat, I know it's nothing compared to mess I'm going to be when this pup leaves me. He's thirteen this year: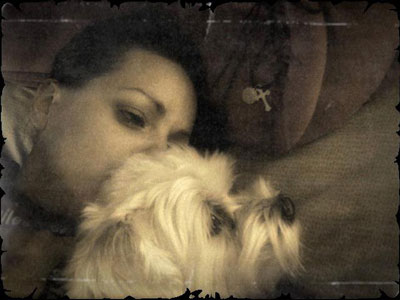 (Or, you know, when an actual human member of my family gets sick and dies.)
Thinking about death and losing my beloved pets has opened my eyes like nothing else to just how attached I am to people and things in this world and how little trust I really have in God. So lately I have been concentrating on really trying to practice and take to heart the Total Consecration to the Blessed Virgin Mary that I've made and renewed over the last 14 years, whereby one gives oneself entirely to Mary in order to belong entirely to Jesus through her. According to St. Louis Marie De Montfort, this:
requires us to give:
(1) Our body with its senses and members;
(2) Our soul with its faculties;
(3) Our present material possessions and all we shall acquire in the future;
(4) Our interior and spiritual possessions, that is, our merits, virtues and good actions of the past, the present and the future. (True Devotion to the Blessed Virgin Mary, n. 120)
There is a pledge we make as members of the Legion of Mary that covers this perfectly and I have found myself repeating it many times throughout the day lately: "I am all Thine, my Queen and my Mother and all that I have is Thine." All that I have, including my dearly beloved animals.
Now, I am going to attempt to go out and sit with my poor cat for a while (though these days she stays under the car for the most part while I'm out there with her). Did I mention that I hate this?
God give me strength and trust in you!