Blessed JP II was one of the greatest defenders of life and human dignity in the modern age. The secret to his dedication and motivation? Two words: Totus Tuus:
Actually, it wasn't much of a secret. Totus Tuus (I am totally yours) was the motto for his pontificate and his papal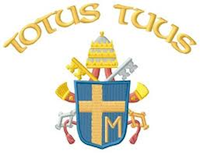 flag bore a large letter M symbolizing his great devotion to Mary.
Her month is over now, but I would still like to say a few words here about devotion to the Blessed Virgin Mary, about which there is a lot of misunderstanding, even among Catholics. The best explanation of what a genuine devotion to Mary consists of can be found in St. Louis Marie deMontfort's True Devotion to the Blessed Virgin Mary. A book about which JP II said:
"St. Louis de Montfort! I have long studied his doctrine and I like it. Besides, it's from Montfort that I have taken my motto, "Totus Tuus" (I am all thine). Some day I'll have to tell you Monfortians how I discovered de Montfort's treatise on TRUE DEVOTION to Mary and how often I had to reread it to understand it."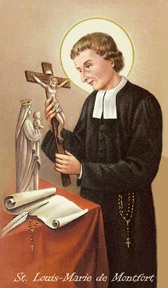 There are several exterior prayers and practices involved in devotion to Our Lady – recitation of the hail Mary and the most holy rosary, for example – but, the heart of de Montfort's True Devotion, what JP II meant by Totus Tuus, is the interior practice of a Total Consecration of one's whole self to the Blessed Virgin, making oneself a slave of Mary, doing everything by Mary, with Mary, in Mary and for Mary, who will in turn lead us into a perfect union with Christ, her Son (which is the ultimate goal of any genuine devotion to Our Lady).
By Jesus Christ, with Jesus Christ, in Jesus Christ we can do all things; we can render all honor and glory to the Father in the unity of the Holy Ghost; we can make ourselves perfect and be for our neighbor a fragrance of eternal life.

If, then, we are establishing sound devotion to our Blessed Lady, it is only in order to establish devotion to our Lord more perfectly, by providing a smooth but certain way of reaching Jesus Christ. (True Devotion, n. 60-61)
I like what a priest in our diocese often says: "2000 years ago Mary brought Christ into the world. Now she brings Christ into our hearts." When we give ourselves completely to Mary she gives herself completely to us in return, sharing with us her own glorious virtues. She purifies all of our good works and intentions offered to her in confidence, offering them in turn to Christ who never refuses what is given to him from the hands of His Holy and Immaculate Mother.
What I love most about this devotion is that it is nothing short of a perfect imitation of Christ who spent almost His entire life on earth completely subject to His Blessed Mother. That is why de Montfort calls True Devotion to Mary an "easy, short, perfect and secure way of attaining union with our Lord." For nine months the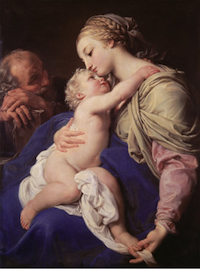 Creator of the world confined himself to Mary's virginal womb and was totally dependent on her as an infant and a small child growing up in Nazareth. Even when He was ready begin his public ministry at age 12 and left His parents in Jerusalem to preach to the elders in the temple, when he saw how much his disappearance upset her, Jesus returned home and was "obedient" to her, living hidden in Nazareth once again with his mother for another 18 years. Without losing anything of his divinity and sanctity, Jesus chose to come down to us on earth by and through Mary, and so, too, we ascend to Him perfectly and divinely through Mary most holy. This devotion echoes not just Christ's love for His Mother, but also His sublime humility.
I know this is not the kind of thing I normally get into here, but, next to St. Therese and her Story of a Soul, de Montfort and his True Devotion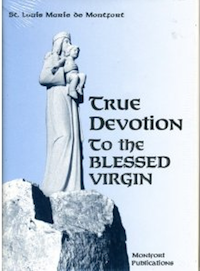 has had the biggest influence on my spiritual life. If you've read the original "Reflections of a Paralytic" that I list here, I say that Mary saved my life. I honestly believe this because, well, that's what she does for those who love her. She does not give up on those who love her, even when why appear to give up on her.
13 years ago I made my first Total Consecration to Jesus through Mary when I was just 15 years old. As sincere as I was that I wanted to live my faith and give myself completely to Mary in this way, I once again got caught up in living the life of a "typical" American teenager and gave up on the promise I had made to my Blessed Mother…but She did not give up on me. I can't explain it, really, but sometime after the accident (when I was 17), as I came to terms with how easily I could have been dead instead of just paralyzed and wondered what it all meant, it occurred to me that She must have had a hand in my survival, giving me another chance to get back on track – back to living the devotion that I had essentially abandoned. So I picked back up where I had left off, starting with a renewal of my Consecration (which I do every year now) and, with Her help and by the grace of God, I have not turned back since. For a more details about my devotion to Our Lady and how She has brought me closer to Christ and the Church, check out my interview on EWTN's Life on the Rock from last July.
I am all Thine, my Queen and my Mother and all that I have is Thine!
When Jesus saw his mother and the disciple there whom he loved, he said to his mother, "Woman, behold, your son." Then he said to the disciple, "Behold, your mother." And from that hour the disciple took her into his home. (Jn. 19:26-27)
Do you have a place for Mary in your home? In your heart?
For those who want to understand a bit more about why Catholics honor Mary as we do, check out this excellent video. Much of what we believe about Mary and her role in Salvation History comes right from the Bible.
Recommended
True Devotion to the Blessed Virgin Mary
Preparation for Total Consecration
Total Consecration audio