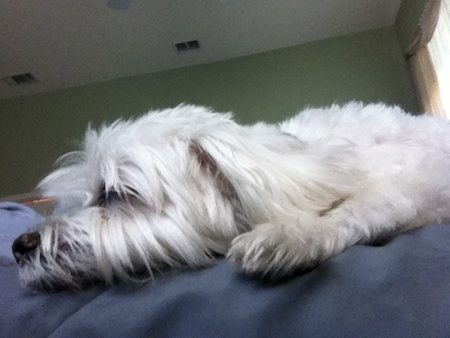 It's starting to become pretty clear that my beloved Crash monster probably will not be with me much longer. Longtime readers will recall that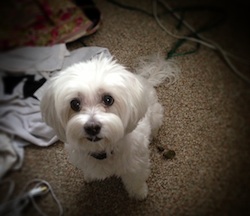 Crash was a gift to me from some dear neighbors after the car accident that paralyzed me. Which makes this old man 14 years old this year. Not a bad run, as doggy lifespans go and I know his has been a very happy one — for both of us (even if he did drive me crazy sometimes).
I'm still awaiting the results of some blood work from yesterday to see if anything more serious is going on. Otherwise, he's just an old, old, old, old man. A combination of vision/hearing loss seems to be making him very disoriented — besides the fact that, according to my vet, old dogs can become senile just like old people. So, he mostly just sleeps a lot. He's still eating some, which is good. But definitely not as much as he was.
As hard as it was losing my sweet Coco Kitty last year, I know this is going to be ten times worse for me. So, I could use some prayers as well, especially since my fear and anxiety about death has not changed much.
"Having a luck dragon with you is the only way to go on a quest." The past 14 years has been quite a quest for me physically, spiritually, emotionally, and I have been very blessed to have Crash accompany me along the way. He's a monster, but I love him.