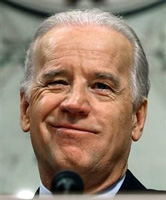 While running his mouth at a rally today Democrat vice-presidential candidate Joe Biden questioned how those who oppose embryonic stem cell research could possibly be committed to caring for the disabled:
"I hear all this talk about how the Republicans are going to work in dealing with parents who have both the joy…and the difficulty of raising a child who has a developmental disability, who were born with a birth defect…Well, guess what folks? If you care about it, why don't you support stem cell research?"
He uses the typical blanket term "stem cell research," but he is quite obviously referring to stem cell research using human embryos.
But where is there one iota of evidence to support the notion that in order to truly love the disabled you must support embryonic stem cell research? Answer: nowhere. After more than 20 years of experimenting with ESCs in rats and other animals there have been no advancements that have lead researchers to begin trials in human beings. In fact ESCs have failed to even obtain FDA approval for being safe to use in human clinical trials due to their ability to form tumors and the great risk of tissue rejection (see more on the dangers of ESCs here).
Meanwhile adult stem cells continue to see success and progress in treating human beings and even new research on iPS stem cells is advancing farther than anything having to do with ESCs.
Yet you still have politicians like Biden and the delusional and dangerous Diana DeGette out there advocating the need for research that requires the use and destruction of nascent human life and demanding that our tax dollars pay for it. What's more insulting is that they have the nerve to accuse us of not caring about the disabled because we reject such unethical, unproven and unnecessary research in favor of something that actually works – and doesn't require us to kill human beings in the process!
So what do we have to do to get it through to these people that ESCs are NOT the way to go? Rebecca of Mary Meets Dolly has a suggestion:
Nothing is more powerful than a person with paralysis, or diabetes, or Parkinson's or heart disease speaking out and demanding that public money and attention be paid to research and therapies that are already treating patients or are in human clinical trials. If I was suffering from a disease, I would be hopping mad that any taxpayer money was going to fund things like human cloning because it is a field that is decades behind adult stem cell research. Imagine how much faster cures would come if that 3 billion dollars that California has earmarked for stem cell research was put into ethical research instead of paying scientists to tinker around with human cloning for the next 20 years.

If society is to know that adult stem cells are the way to go, those with diabetes, Parkinson's, cystic fibrosis, blindness, Alzheimer's, lupus, sickle cell anemia, autism (and the list goes on and on) have to get mad and DEMAND it.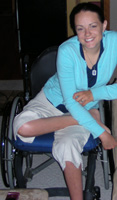 I would also add spinal cord injury, which is the disability that I personally live with, to that list of treatments from ASCs (see here and here.)
Yes, we should get mad. Our persons, our conditions are used and exploited to advocate the destruction of human life for scientific research by these people who largely ignore and, as a result, even stand in the way of the most promising and effective stem cell research.
The science is on our side! Not only have ASCs proven to be more effective, but scientists admit ESCs "may not deliver therapy for anything." See what is the real future of ESC research.
*sigh* "When ridiculed, we bless; when persecuted, we endure; when slandered, we respond gently" (1 Corinth. 4:12-13.) It's that responding gently part that I'm having trouble with… Truly, though, I understand that the majority of those who support ESC research are honestly looking for a way to ease human suffering. But even such a noble end does not justify the use and destruction of innocent human life. The research is just unethical, period and its advancement is not progress, but a threat for man and for the world (Spe Salvi, 22).
Related:
Yuval Levin on Biden and Developmental Disabilities
Where the Real Booming Stem Cell Business Is
Where's the Beef?