A few days ago I talked about God's use of the weak to shame the strong. One of the examples I gave involved babies who survived abortion attempts, showing their would-be assassins who really has control over life and death. In a similar way, little Pearl Joy Brown is also doing just that.
Marybeth Hicks writes:
Ruth and Eric Brown didn't expect anything to be wrong.

At 20 weeks pregnant, Ruth had no indications her baby was anything but perfect.

So they were completely unprepared for what they learned at a routine obstetrical ultrasound: Their third child, daughter Pearl Joy, was profoundly underdeveloped.

Pearl was diagnosed in utero with alobar holoprosencephaly (HPE), a neural disease in which the brain and facial features do not form completely. Usually, babies with HPE do not survive a full-term pregnancy. Or if they do, usually they die within hours or days of birth.

Usually.

Pearl Joy Brown is unusual. Some would say remarkable.

At 5 weeks old, Pearl is defying all odds and every medical assessment that treated her, from birth, as a person trying to die.

From the day she was born, her parents received medical support in the form of hospice care, on the assumption that their role would be to help their daughter pass away peacefully and without pain.

Pearl had other plans. And she isn't just surviving, she is thriving.
But before she was born, a doctor told Pearl's parents that she would be "incompatible with life" and advised them to kill her in the womb. When they refused, he refused to provide them with further medical care and referred them elsewhere. And now here she is: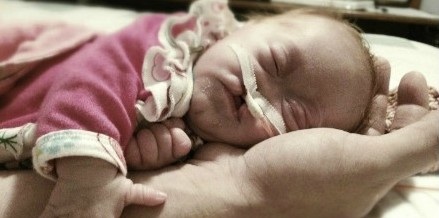 Her father says:
"I see the humanity of an unborn baby more clearly than I ever did," her father says. "And because of Pearl, I have fallen in love with humanity once again. For years I was cynical, but even in the worst of this, I see people connecting, responding, and walking with us.

"I don't know how long we have with Pearl, but I believe one day she'll be made whole. Now I'm not even sure of what that means."
Ask any expecting parents what they hope for their unborn child and almost all of them will tell you, "as long as she is healthy, that's all that matters." Unfortunately, sometimes it doesn't work out that way, but that doesn't make her life less valuable, or your life with her less joyful. Be not afraid.
Find out more about this precious little 'weakling' who is bringing joy to everyone around her — and shaming her would-be assassins in the process — at PearlJoyBrown.wordpress.com