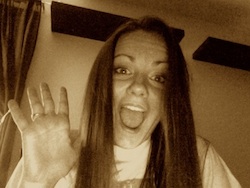 My, but you are a curious bunch! Hello and welcome!!
I knew I would get a bounce when Jen generously gave me a shout-out on her blog the other day, but, I just checked my stats and…WOW! You guys far exceeded my expectations! Seriously, this is the biggest bounce in views I've seen here since my own appearance on LOTR a few years ago. Many thanks to Jen for her kind words and thank you all for being curious enough to click the link and find out what this little blog is all about. I hope that you like what you see and will come back to visit again – and again, and again…
By way of introduction, I will first refer you to my About Me page. You are coming here from a post by Jen about her recent appearance on Life on the Rock – which she rocked, of course! As I mentioned above, I, too, was a LOTR guest a few years ago. If you're curious to know even more about me, you can watch my episode here:
I try to post here on a daily basis during the week, so, again, I hope you will check back here often. I also write and edit for CatholicLane.com which publishes lots of quality, Catholic material. My latest article was published today: Porn Not the Only Industry Commodifying Women. Click here for an archive of my other articles and, please, "like" Catholic Lane, Reflections of a Paralytic and Ignitum Today (another awesome Catholic blog that I contribute to) on Facebook.
So, that's me. Who are you? Please leave me a comment and let me know who all you wonderful people are.
Before the major bounce from Jen, my stats also revealed that I have enjoyed a modest following of very loyal readers with my total visits usually split pretty evenly between "new and returning visitors". So, to all of you who have been with me for a while now, know that I love and appreciate you, as well! I don't do this to get attention for myself (AMDG, always!), but, let's face it, if no one was reading, I wouldn't have much incentive to keep writing.
Thanks, again – to readers old and new!! You guys, ROCK!