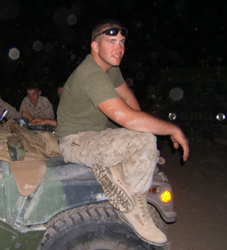 We cannot celebrate the great gift of life without also meditating upon the mystery of death. Earlier last week I had the strangest dream about a man I graduated high school with who died in Iraq two years ago. I frequently have dreams about people I know or have known, but this one was particularly special for some reason. I couldn't quite figure it out, though, until I did an internet search for him – because I just couldn't get him out of my mind – and found out that the second anniversary of his death was April 14 (probably the day I had that dream). In my search I was very surprised to find this lovely video tribute to Darin:
Shortly after graduation I moved out of the small town I went to high school in and didn't keep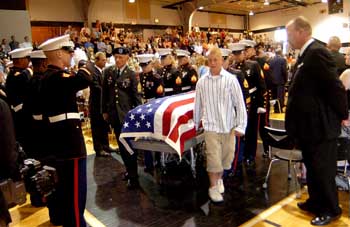 in touch with him, though I had seen him once or twice. But he was a close friend of mine in school and remains one of the sweetest guys I have ever known (and I don't say that about just anyone). Unfortunately I was going to school in Florida when he died and I didn't find out about it until after the funeral, which was held in our high school gym. Below is a picture of his body being driven into our hometown. People were lined up all along the highway to greet him as he came in. It's really beautiful the way we still honor our fallen soldiers in this country.

The joyful season of Easter, which we are still celebrating, reminds us that death is not the end of life and should neither be feared nor mourned. From Sunday's Gospel reading:
"Do not let your hearts be troubled. You have faith in God; have faith also in me. In my Father's house there are many dwelling places. If there were not, would I have told you that I am going to prepare a place for you? And if I go and prepare a place for you, I will come back again and take you to myself, so that where I am you also may be." (Jn. 14:1-3)
I love this part of JPII's "Meditations on the Book of Genesis at the Threshold of the Sistine Chapel"
This End is also the summit of transparency
such is the path of all generations.

"Non omnis moriar" (Not all of me will die).
What is imperishable in me
now stands face to face with Him Who Is!
May you rest in the peace of the Risen Lord, Darin, and may we meet again one day in that world that has no end.
You can view and sign Darin's legacy guest book or his fallen heroes guest book.