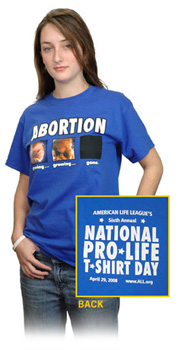 Those are the words on this year's National Pro-Life T-Shirt Day shirt. This year NPLTD is April 29, so now is a good time to start organizing your youth groups or other church/pro-life groups to order t-shirts if you haven't done so already.
NPLTD is organized by American Life League with the intent to increase awareness of abortion and the reality of how many innocent babies are murdered every day. Part of creating a culture of life involves raising awareness to the personhood of the unborn and fighting to have the basic right to life extended to these innocent human beings.
The T-shirt Day website has some helpful information for anyone wishing to wear it at a public school including a link to a letter from ALL's legal department about PLTD and your free speech rights in school.
Also, if you do participate, please send me pictures of you, your friends, your church group, or students wearing the t-shirts at school or out in public and I will post them on this website. This is a great way to show your committment to fight for the rights of the unborn and to be witness to others.
Send pictures to chelsea@zimmcomm.biz
Previous post:
Pro-Life T-Shirt Day