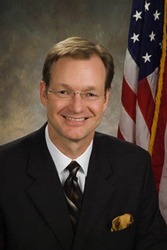 This would be a breath of fresh air after Gov. Blunt's pro-cloning Governorship! Not only did Rep. Hulshof oppose Amendment 2, he also voted against expanding federal funding for embryonic stem cell research and has a strong pro-life record. He has not made any formal plans to run yet, but he's considering it. From the St. Louis Post:
U.S. Rep. Kenny Hulshof's wife, Renee, dashed to Washington from her home in Columbia, Mo., to help her husband decide whether to run for governor…

Behind the scenes, aides to Blunt and U.S. Sen. Christopher "Kit" Bond are trying to build a consensus around Hulshof, party activists say. Hulshof almost ran for governor in 2004 but was nudged out when party leaders favored Blunt.

Because he has been in Washington and not Jefferson City, it would be harder to blame him for the Medicaid cuts that have caused Blunt problems in the polls. Also, Hulshof, a lawyer, has a squeaky-clean image, with no scandals on his record.
Though Blunt left GOP Gubernatorial hopefuls with little time to raise significant funds and organize a substantial campaign, many believe that Hulshof would have an excellent chance at beating pro-abortion/cloning/ESC research Jay Nixon. He would, however have to clinch the Republican nomination. So far the list includes Lt. Governor Peter Kinder and State Treasurer Sarah Steelman who have formerly announced plans to run and U.S. Attorney Catherine Hanaway of St. Louis, Senate Majority Leader Charlie Shields of St. Joseph and House Speaker Rod Jetton of Marble Hill, who are exploring the idea.
Of those, besides Hulshof, only Steelman and Hanaway are endorsable as pro-life candidates. Peter Kinder is not, though I'm not sure about the details of his position on life issues. Shields is in favor of "therapeutic" human cloning and once told pro-lifers that he would never let a cloning ban that didn't offer an amendment allowing such cloning to pass through the Senate. Jetton is about as wishy-washy as they come and has basically been a mouthpiece for our pro-cloning Governor in the House of Representatives. He represents a disappointingly large number of our Republican lawmakers who favor party loyalty above taking a firm stand on life issues. Besides the Governor, we really need new leadership in both houses of the legislature.
U.S. Rep. Jo Ann Emerson of Cape Girardeau has announced that she will not run. Which is good because she was also the only Republican Representative from Missouri to vote in favor of expanding federal funding for ESC research – including voting to override the President's veto.
Kenny Hulshof would be a phenomenal candidate, and not just on life issues. Though it would be disappointing to lose his stellar pro-life representation in the federal government. I urge my fellow Missourians to contact Kenny's office and let him know you support him for Governor.