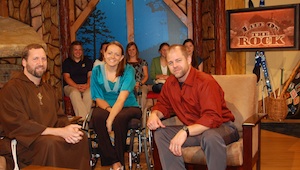 Dearest readers: I was quite honored to get an email not too long ago letting me know that I would be featured on Life on the Rock's "Best of 2010" episode airing tonight, Thursday December 30, at 10pm EST on EWTN. Do check it out if you get a chance. If you don't have a way to watch it on TV, you can watch it for free online. Go to http://www.ewtn.com and scroll over the "Television" tab at the top of the page. In the drop-down box you will see Live TV English or Spanish and there you can choose from a few different viewing options.
For those of you who are not aware, I was on an episode of EWTN's Life on the Rock this past July. You can watch the entire show online via YouTube or order a CD or DVD copy through the EWTN Religious Catalogue.
This month (on Dec. 14) marked the eleventh anniversary of the car accident that caused my spinal cord injury. As usual, God has given me blessings far beyond anything I deserve this past year and I have to say that by far the most memorable and exciting thing to happen to me was being a guest on Life on the Rock.
I said at the time that if you would have told me 11 years ago that one day I would be on TV sharing my faith with the entire world, I would have told you that you were completely insane!! I could hardly imagine sharing my faith with my closest friend back then (mostly because I barely practiced it), much less talking about it on live international television. But God works in amazing, mysterious ways.
During a talk I gave to a group of seventh graders last year, I was asked, if I had my whole life to live over again, would I still want to end up in a wheelchair. That's a tricky question because, as difficult and inconvenient as it is to live with a spinal cord injury sometimes, I'm pretty well convinced that it took a life altering trauma to wake up the sleeping saint within me. Not that I think that I'm anywhere near sanctity, mind you. Far from it. But I am now at least more aware that that's what I was created for and actually have a desire to persevere in pursuing that holiness.
There's nothing quite like a close brush with death to help put life in perspective. So, would I choose to still end up in a wheelchair? Knowing what I know now, I would have to say: "Father, if you are willing, take this cup away from me; still, not my will but yours be done." -Luke 22:42
I would love to be able to walk again. But in the past eleven years I've also come to understand that adversity is a great teacher. It thickens our skin and teaches us patience and courage. It also tests our will, reminding us that we are not in charge; we do not own our own body; we are creatures, totally dependent on God who wants us to rely on Him for absolutely everything. If we accept it with the right attitude, trusting God in all things, suffering can be a great spiritual benefit both to the suffering individual as well as others in the world.
Gianna Jessen likes to refer to her "gift of cerebral palsy." Perhaps I should start calling it my "gift" of spinal cord injury. To the world, accepting life with a disability is a sign of weakness and defeat. But, it is precisely in weakness that true strength is found.
Certainly, we should work for and want to cure diseases/disabilities and ease suffering. But we also have to accept the reality of the moment and make the best of whatever situation we find ourselves in, even if it seems awful and hopeless. Besides, very often the more we reject and try to avoid suffering, the more we suffer as smaller and more insignificant things begin to irritate us.
"The Lord is good because he often does not give us what we desire, in order to give us something we would prefer" -St. Jerome, Epist. ad Paulinum
Mysterious, indeed. God's ways are not our ways. He created us and He alone knows what's best for us. He is infinitely good and He eternally seeks our well-being, so we can be sure that whatever He allows to befall us is for our own good and the good of others. What's more, our God loves us so much that he gave himself up unto death for us so that we would not have to suffer alone.
It is not fleeing from suffering that heals us, but our willingness to accept it, mature through it and find meaning through union with Christ, who suffered with infinite love (Spe Salvi, 37).
"If I had to choose between walking or going to heaven, I would choose going to heaven" -Blessed Chiara Luce Badano