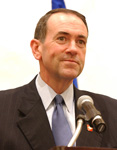 With Sam Brownback out of the race, I have been looking at the other Republican candidates to see who I will throw my weight behind. Mike Huckabee has been making his way up the ladder, slowly but surely. His impressive win at the Washington Briefing recently has gotten many people talking. Social conservatives are hungry for a viable alternative to Rudy and haven't been too impressed with the other candidates holding steading on the top rungs (McCain and Romney – though Romney did come in a distant second in the on sight WB poll). If you will recall, Huckabee also won the Values Voters Debate a few months ago hands down. He even got an endorsement from everyone's favorite macho man, Chuck Norris.
Not everyone is quite as charmed by this former Southern Baptist preacher and former governor of Arkansas, however. Browsing around the blogosphere I have noticed that Dakota Voice seems to be one of the most outspoken Huckabee opponents, with a number of critical posts in the past week. Then there was the bruising op-ed by John Fund in the Wall Street Journal. They aren't the only ones, but they have surely caught my eye. The concern is that, while Mike passes the test on social issues, he fails almost every other conservative qualification – specifically regarding taxes and illegal immigration. I wondered why Forbes gave him a score of 26/50 for conservatism, the lowest among all the Republican candidates.
How can someone so seemingly out of touch on a host of other conservative values be moving ahead so quickly? For one thing, he is solid where it matters most to social conservatives. He is also a very charismatic and energetic speaker and usually entertaining to watch during debates. And some suggest that he's really not as bad as others would have you believe. Lucas Roebuck wrote a detailed rebuttle of the John Fund Journal piece, defending and giving context to some of the accusations against Huckabee. David Kuo of Beliefnet suggests that the Fund article was a pure hit piece, citing his numerous tax cuts in the state. Another blogger that I regularly check out, the Catholic Knight, has fully embraced Mike as a nominee with a number of posts in the past week encouraging support for him – which includes a Rosary for Huckabee Campaign.
As I eye Huckabee rising in the polls I see the need for pro-life conservatives to come together in support of one man to win the nomination. Unfortunately I'm not completely sold on any one person. If I had to choose today it would be a toss up for me between Duncan Hunter and Fred Thompson. Both seem to be the most consistent and solid conservatives. But I will be keeping my eye on Mike Huckabee.