Everyone's favorite "media nun", Sr. Helena Burns, recently reviewed the six-part Lifetime reality TV series The Sisterhood: Becoming Nuns.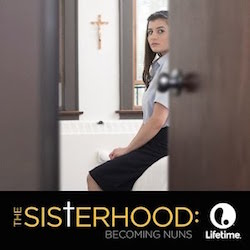 According to the good sister it is a "wonderful" show and well worth watching, though not without its drawbacks. One of those drawbacks is the attitude that some of the discerning women seem to have toward sex:
Theology of the Body

One disturbing detail was the existing/persisting attitude of some of the young women toward chastity and premarital sex. The girls themselves reveal that two of them are virgins, at which two of the other girls were truly shocked, but not only shocked: completely uncomprehending! They expect virginity of one already nun-like girl–although they challenge her never having dated–but they are shocked by the virginity of the more "normal" girl!

The attitude was: "But if you don't have sex with a guy you like, you will lose him and he might have been 'the one' you will marry." WOW. WOW. WOW.

I know this is a completely common viewpoint/practice today, but it was just so taken-for-granted, so ingrained in these otherwise deeply faith-filled, faithful young women. They don't even see how sex is profoundly related to their relationship with themselves, with God. Their attitude toward men is: "Of course you have to give in to them. That's just the way the world is."

This is not gender equality. These are not "liberated" young women in any sense of the word! Not in a feminist way, not in a Christian way.* They don't realize how their philosophy undermines their whole feminine self. And the masculine self of every man they date, even if one of them becomes their husband.

It's one thing to say/believe: I don't always live chastity perfectly, but I try. It's another thing to say/believe: sex before marriage is no big deal. You have to/should do it. Any such cavalier attitude toward sex means: The body doesn't matter. My body doesn't matter. I don't matter. I firmly believe this is one of the root-causes of widespread low self-esteem among women. Others turn this "I don't matter" into a kind of ambitious, hardened drive toward acquiring.

The girl in question was shocked at their being shocked. She summed up her own ethos perfectly: "But why should I NOT be who I am for someone who is supposed to LOVE who I am and get to know me as I am?"

Such a crying, crying need for Theology of the Body. Check out this news article that is troubling on so many levels. Just like the Church's mishandling of the clergy sex abuse crisis, the Church's failure to teach and adhere to her beautiful vision of human sexuality has resulted in messes like this. And the messes are getting bigger and more complex and far-reaching by the day. This one is just the tip of the iceberg. A precedent. A legal precedent. Expect many more such scenarios to follow.
Read the entire review.