I recently got to spend almost a whole week with my nephew (aka the cutest baby on the planet) in Cancun for my baby sister's wedding. Here is some of the cuteness for your viewing pleasure. Click each image to enlarge.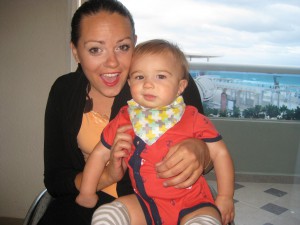 Thanksgiving day on the beach with the cutest cabana boy in Cancun.

Three ZimmerWomen and a baby.

With his parents after they said "I do."

The wedding party, feat. yours truly as co-maid of honor.

I have never been to a resort with it's own Catholic chapel. With a tabernacle. And priests who come not just to celebrate destination weddings, but also Sunday Mass and some daily Masses. I was impressed.

Back to the cuteness. How did he get so big!? Working on walking any day now.

Playing pass the sleeping baby during the reception.

Cruz has learned to give sweet, slobbery, open-mouth baby kisses. And he really loved my goddaughter/cousin, Abi.

I also got a little Cruzy kiss goodbye.

Gosh, I miss that baby already!
This has been quite an eventful couple of weeks for our family. Almost exactly a week after my youngest sister got married, my middle sister received her Doctorate of Physical Therapy (after only, oh, nearly 8 years of school)!
Introducing Dr. Carly Allison Zimmerman!

Words cannot express how proud of and happy I am for these baby sisters of mine! Caitlin was a stunning bride and is a truly wonderful mother (getting ready for baby boy #2!!). And Carly is going to be an amazing PT. Her future patients are in such great, capable hands!

I hope that's enough cuteness to last you all a little while!