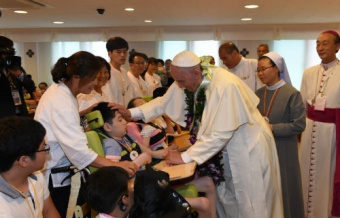 Before praying at the abortion memorial in Korea this weekend, Pope Francis also visited the "House of Hope" Rehabilitation Center Saturday afternoon. He spent almost an hour at the center where he embraced and blessed many of the patients and greeted teachers and health workers.
According to CNA, Bishop Gabriel Chang Bong-huh, Bishop of Cheongju, addressed the Holy Father and said "these children have suffered from double abandonment: abandoned first by their parents for birth defects and later by society because nobody wanted to adopt them because of prejudices against children with disabilities."
"Holy Father, your visit is a strong call for us to practice preferential love and concern for children with disabilities."
Indeed. Humanity's greatness is shown best in how we love and care for those in need.
How many children with disabilities, like those at the House of Hope, continue to be abandoned throughout the world or, worse yet, have their lives snuffed out before they're even born?
We should be concerned with finding cures and making the world a place where people with disabilities feel welcome and valued, not pushing them away or snuffing them out of existence.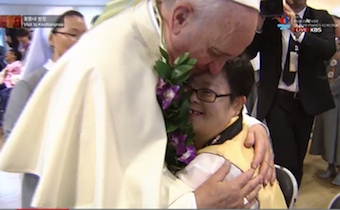 Visiting the sick and disabled is not unique to Francis' pontificate, of course. During his visit to the United States in 2008, pope Benedict had a special audience for children with disabilities and told them
God has blessed you with life, and with differing talents and gifts. Through these you are able to serve him and society in various ways. While some people's contributions seem great and others' more modest, the witness value of our efforts is always a sign of hope for everyone.

Sometimes it is challenging to find a reason for what appears only as a difficulty to be overcome or even pain to be endured. Yet our faith helps us to break open the horizon beyond our own selves in order to see life as God does. God's unconditional love, which bathes every human individual, points to a meaning and purpose for all human life. Through his Cross, Jesus in fact draws us into his saving love (cf. Jn 12:32) and in so doing shows us the way ahead – the way of hope which transfigures us all, so that we too, become bearers of that hope and charity for others.
Related: Your Handicapped Child is a Blessing