This is truly disturbing. Last month I told you about people with so-called Body Integrity Identity Disorder (BIID) who actually want to have their healthy limbs cut off. It appears this disorder is not limited to "amputee wannabes".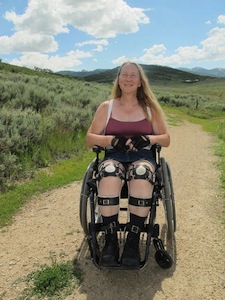 According to the Daily Mail:
A Cambridge University educated research scientist is so desperate to live the life of a wheelchair-bound person she is prepared to pay a doctor help her become disabled. Since childhood, Chloe Jennings-White has made several attempts at injuring herself so she can finally climb into her own wheelchair. In 2010 she even found a doctor overseas willing to help her become disabled by cutting her sciatic and femoral nerves, but she could not afford the £16,000 costs…

The Cambridge graduate believes both of her legs do not belong to her and dreams of being paralysed from the waist down.'Something in my brain tells me my legs are not supposed to work,' she said. 'Having any sensation in them just feels wrong.'
Two things:
1. If this does not fit the definition of "psychotic", I don't know what does.
2. No truly ethical physician would ever perform such a surgery.
Read more from the Daily Mail…if you can stand it. Then read my previous post, Transhumanism: Amputating Healthy Limbs, for more on why BIID is a major concern.
*IMG: Chloe Jennings-White wears leg braces and uses a wheelchair…even though her legs are fine.