To say that Christopher West is busy spreading the Gospel of the Theology of the Body would be an understatement. On top of teaching several week-long TOB immersion courses at the TOB institute, he's got a seventh book coming out next January, he's about to embark on a second national tour with the folk-rock group Mike Mangione & The Union using the beauty of music, art, and the spoken word to unmask the human longing for God and, after successfully helping establish the Theology of the Body Institute, he's started a new, even more ambitious project.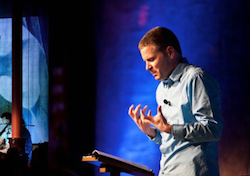 Over at Ignitum Today, Shane Kalpar caught up with West about the TOB and what he's got in store for the future. I love his response to how parents can introduce our children to TOB, even at a very young age:
First, we must recognize what a critical responsibility we have as parents to pass on the glory of God's plan for the body and sexuality to our children. Silence is not an option. When we say nothing, the culture fills the void with its terribly distorted message. But we can't give what we don't have. As parents, before we can pass the TOB on to our children, we have to immerse ourselves in it.

The Church teaches that education in God's plan for sexuality must begin in the womb, and continue uninterrupted throughout all the ages and stages of development. So, obviously, we're talking about much more than just giving our kids "the talk" when they reach a certain age. We're talking about a way of living and of embracing life that is itself an education in the meaning of sexuality. We're also talking about engaging in an ongoing conversation about the meaning, purpose, and dignity of being created as male and female in the image of God. One of the things my wife and I have done with our kids is put this ongoing education in the context of our nightly prayers. Every day since they were born my kids have heard me thanking God for making Mom to be a woman and making me to be a man; for calling us to the sacrament of marriage; and for bringing each of them into the world through Mom and Dad's love. Then I ask God to help the boys grow into strong men and the girls to grow into strong women and I ask God to teach them how to give their bodies away in love as Jesus loves. Then I pray for their future vocations. Eventually, as they get older they start asking: "What does it mean that I came into the world through your love?" That's when we start taking the conversation to the next level – based on their age level and understanding – and it unfolds fairly naturally from there.

If we are presenting God's plan in all its splendor and in age-appropriate ways, there is nothing to be ashamed of here. There is nothing to be squeamish about or embarrassed about. If we find ourselves clamming up and unable to talk about these beautiful truths with our children, that's an indication, I think, that we ourselves are in need of some healing in this area of our lives. Taking up a study of JP II's TOB is a great place to start on that journey.
Parents, this is so vitally important considering the sex saturated garbage they are presented with in popular media and, more often than not, now, in the classroom…with the full support of our Federal Government.
Here he talks about the "Cor Project" which I mentioned here a few weeks ago:
"Cor," of course, is Latin for heart. At the heart of culture is the relationship of man and woman. It's an illusion to think we can renew culture unless we reach this "cor" with a healing, redemptive vision of life, love, and sexuality. I've spent nearly 20 years spreading TOB in Catholic circles, and I'll continue to serve in that way. But The Cor Project is working with culture-shaping individuals and organizations around the world – artists, musicians, screenwriters, playwrights, Hollywood and Broadway producers, businessmen and women, experts and pioneers in online education – to take the message to a wider audience. We feel urgently compelled by Christ's call to "go into the main streets and invite everyone to the wedding feast."