This is wonderful!

The Cor Project and Crudem Foundation have joined forces to bring Blessed John Paul II's Theology of the Body teachings to Haiti, a country who's devastating poverty has lead to struggling marriage rates.
According to Christopher West, very few people get married in Haiti. "The cultural situation is very different (from the U.S.). As was explained to me, there is strong cultural pressure to have a big wedding, but very few people can afford that. So rather than suffering the cultural embarrassment of doing something small – all that's required by Canon Law is a priest and two witnesses – they just don't get married. So one of the main concerns of the priests is to help couples understand the importance of actually getting married."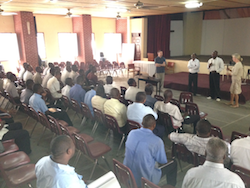 Deb O'Hara-Rusckowski, a registered nurse from Boston who is responsible for getting the ball rolling on this project, says that infidelity is also widely accepted in Haiti. "It's almost no surprise when a man has relations with someone other than their (partner)," she said. "And if they get married, no one is surprised when they're unfaithful. . . . The whole image of the body is different than the beauty the TOB presents itself as. They're very practical (in Haiti). Sex is very separated from marriage and love. Sex is more of a biological need."
Prior to West's visit last month, TOB and chastity speaker Jason Evert went down to Haiti in January of this year to talk to the country's youth about the benefits of living chastely.
Now that the seed has been planted, Cor Project, Crudem and the archdiocese plan to have more chastity and TOB training integrated into parish catechesis, including Natural Family Planning training and marriage preparation.
"People here are hungry for this," O'Hara said, especially the priests who have been battling with these issues for decades.
For more information visit:
http://www.thecorproject.org/
http://www.crudem.org/
John Paul II's Theology of the Body comes to Haiti