I addressed this a few weeks ago using an interview with Palin during which she stated, "my baby will not be neglected." This weekend I read a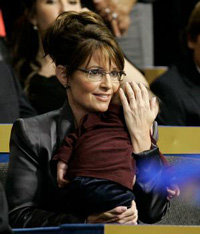 very nice Washington Post article about the Palin's family life after Sarah became involved in politics, specifically after she became the Governor of Alaska. I particularly enjoyed the account of Gov. Palin taking her infant son Trig along with her on routine visit to one of the State prisons:
One Friday in June, Alaska Gov. Sarah Palin joined the chief of the state prison system on a tour of the Point MacKenzie Correctional Farm, a 90-minute drive north of Anchorage. It was a routine visit but for the presence of the governor's infant son, Trig.

Palin held her baby in her arms as the warden drove a short distance around the facility, said corrections director Joe Schmidt, who sat next to Palin.
The article goes on to explain:
Of the many striking images of Palin — sportswoman, beauty queen, populist — in Alaska the most iconic is working mother, a perfectly coifed professional woman balancing public duties and child-rearing in a charismatic blur of multitasking…

Long before she burst onto the national scene last month, Palin made politics a family affair in Alaska. Her role as a wife and mother shaped her entry into politics, proved central to her appeal to supporters and generated the greatest controversies in her abrupt ascension to the GOP ticket. From her children's names to her husband's public celebrity and role as unofficial adviser, Palin has created a reputation among Alaskans less as a rugged individual than as a maverick with a large and colorful family in tow…

The children were always in the picture — Piper close by at a native first-fish ceremony, Trig snuggled in a baby pouch as the governor posed with wounded vets, Bristol confessing to spending $30 on a leg waxing while an Alaska magazine writer took down the exchange: "You have razors," her mother said.
Of course they've had to make many adjustments to a new life between two cities and with two working parents – relying on support from grandparents and other family members. But it is quite obvious that Palin remains a devoted wife and mother first.
I realize that life as a Vice President will be much more intense and demanding than that of a State Governor, that it's farther from home and they will have to make new adjustments and possibly even some greater sacrifices. But I would not dare say that such a position would cause Palin to be any less of a mother to her children or that the family itself will somehow fall apart as a result.
There isn't one way to parent. What works for one family may not work for another. And indeed, some families, like the Palins, make even the oddest and most difficult situations work out in their favor.
More from today's NYT story:
Ms. Palin's three-day maternity leave has now become legend among mothers. But aides say she eased back into work, first stopping by her office in Anchorage for a meeting, bringing not only the baby but also her husband to look after him.

Many high-powered parents separate work and children; Ms. Palin takes a wholly different approach. "She's the mom and the governor, and they're not separate," Ms. Cole said. Around the governor's offices, it was not uncommon to get on the elevator and discover Piper, smothering her puppy with kisses.

"She'll be with Piper or Trig, then she's got a press conference or negotiations about the natural gas pipeline or a bill to sign, and it's all business," Ms. Burney, who works across the hall, said. "She just says, 'Mommy's got to do this press conference.' "

Ms. Palin installed a travel crib in her Anchorage office and a baby swing in her Juneau one. For much of the summer, she carried Trig in a sling as she signed bills and sat through hearings, even nursing him unseen during conference calls.

Todd Palin took a leave from his job as an oil field production operator, and campaign aides said he was doing the same now.