It doesn't get much more beautiful than this. From St. Augustine, whose feast is today: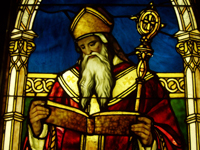 Late have I loved you, Beauty so ancient and so new, late have I loved you!
Lo, you were within,
but I outside, seeking there for you,
and upon the shapely things you have made
I rushed headlong — I, misshapen.
You were with me, but I was not with you.
They held me back far from you,
those things which would have no being,
were they not in you.
You called, shouted, broke through my deafness;
you flared, blazed, banished my blindness;
you lavished your fragrance, I gasped; and now I pant for you;
I tasted you, and now I hunger and thirst;
you touched me, and I burned for your peace.

When at last I cling to you with my whole being there will be no more anguish or labour for me, and my life will be alive indeed, alive because filled with you. But now it is very different. Anyone whom you fill you also uplift; but I am not full of you, and so I am a burden to myself. Joys over which I ought to weep do battle with sorrows that should be matter for joy, and I do not know which will be victorious. But I also see griefs that are evil at war in me with joys that are good, and I do not know which will win the day. This is agony, Lord, have pity on me! It is agony! See, I do not hide my wounds; you are the physician and I am sick; you are merciful, I in need of mercy.

Is not human life on earth a time of testing? Who would choose troubles and hardships? You command us to endure them, but not to love them. No-one loves what he has to endure, even if he loves the endurance, for although he may rejoice in his power to endure, he would prefer to have nothing that demands endurance. In adverse circumstances I long for prosperity, and in times of prosperity I dread adversity. What middle ground is there, between these two, where human life might be free from trial? Woe betide worldly prosperity, and woe again, from fear of disaster and evanescent joy! But woe, woe, and woe again upon worldly adversity, from envy of better fortune, the hardship of adversity itself, and the fear that endurance may falter. Is not human life on earth a time of testing without respite?

On your exceedingly great mercy, and on that alone, rests all my hope.
Is not human life on earth a time of testing? Yes, it is, which is why refusing to suffer is refusing to live: "In this you rejoice, although now for a little while you may have to suffer through various trials, so that the genuineness of your faith, more precious than gold that is perishable even though tested by fire, may prove to be for praise, glory, and honor at the revelation of Jesus Christ." -1 Peter 1:6-7