Oh, snap. Former Komen for the Cure VP Karen Handel has landed a book deal. The title?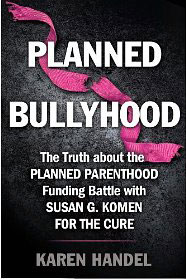 Yes. That about sums it up.
For those of you who don't know, earlier this year, Komen adopted new grant criteria that effectively ended its financial support for Planned Parenthood. The move made complete sense since, on top of currently being under investigation by a U.S. House Committee and not providing mammograms, which are a woman's best chance for detecting breast cancer, mounting evidence suggests that some of the main "goods and services" that PP does provide — abortion and hormonal contraceptives — actually increases a woman's risk of getting breast cancer.
This prompted the abortion giant to go on a media frenzy, condemning Komen's actions as a political move to score points with pro-lifers who have been upset with their connection to PP for years. Under pressure, Komen soon reversed their new policy and all was once again right in PP's little world (in which they are the Queens of the Universe and all must bow to their baby-killing authority…and give them lots of money).
The pro-life Handel, who many believe was the driving force behind the initial change in policy, resigned shortly after the decision was reversed.
Planned Bullyhood is scheduled to be released next month and promises to tell the full story of the Komen's decision to defund Planned Parenthood and the subsequent reversal. Click here to pre-order.